App pricing strategy: How to set a price model for your application
Knowing how to price your app is difficult. If you want to get noticed, it needs to be affordable. But you also want to make money too, right?
On your app development journey, you're going to find that there are many factors to consider when trying to find the right balance.
This is why picking the right app pricing strategy is key.
What is an app pricing strategy?
It's simple, an app pricing strategy is the way you set up your app in the respective iOS or Google app stores to make money. This is what makes it so important.
But pricing a product is not an entirely simple task. In fact, there are hosts of industry professionals who make a living off the psychology of pricing. So don't feel bad if you're unsure where to start.
Just remember this: picking a sound strategy can help you build an understanding of your return on investment. It can do this because it creates a platform for your product to be powerful and successful.
Your pricing strategy has a symbiotic relationship with success. Not only can it affect your position in the app store, it can also affect how your audience engages with the app.
This means that when pricing your app, there are some important factors you'll have to consider. These include your goals, target market, customer orientation, app purpose and product value.
You will also need to consider the market landscape, competitor pricing and economic trends. We'll go into these in a bit more detail later, but what they should all end up doing is feeding into which pricing model you should go for.
What are the four app pricing models?
You will find that there are four app pricing models available to you:
Each one has it's advantages and disadvantages. It's up to you to figure out which one suits your app best.
The free app strategy
It might not always be financially viable, but the best way to get a lot of downloads quickly is to have a free pricing strategy.
By creating a free app, we don't mean that you can't make money from it. Although, 'how much' depends on what type of company you are and the service you provide.
Companies that provide a particular product or service develop most free apps. Here, the app is just an extension of the service they provide and functions as a mode of customer service or communication.
This is a great way to maintain user retention and prevent them from switching them to another competitor. By providing a free service as a means of communication, you are actively building loyalty to keep your customers buying.
A good example is the Starbucks app. You can download this for free, collect points and get special offers. You can even order your latte from inside the app. Because who wants to talk when ordering their latte?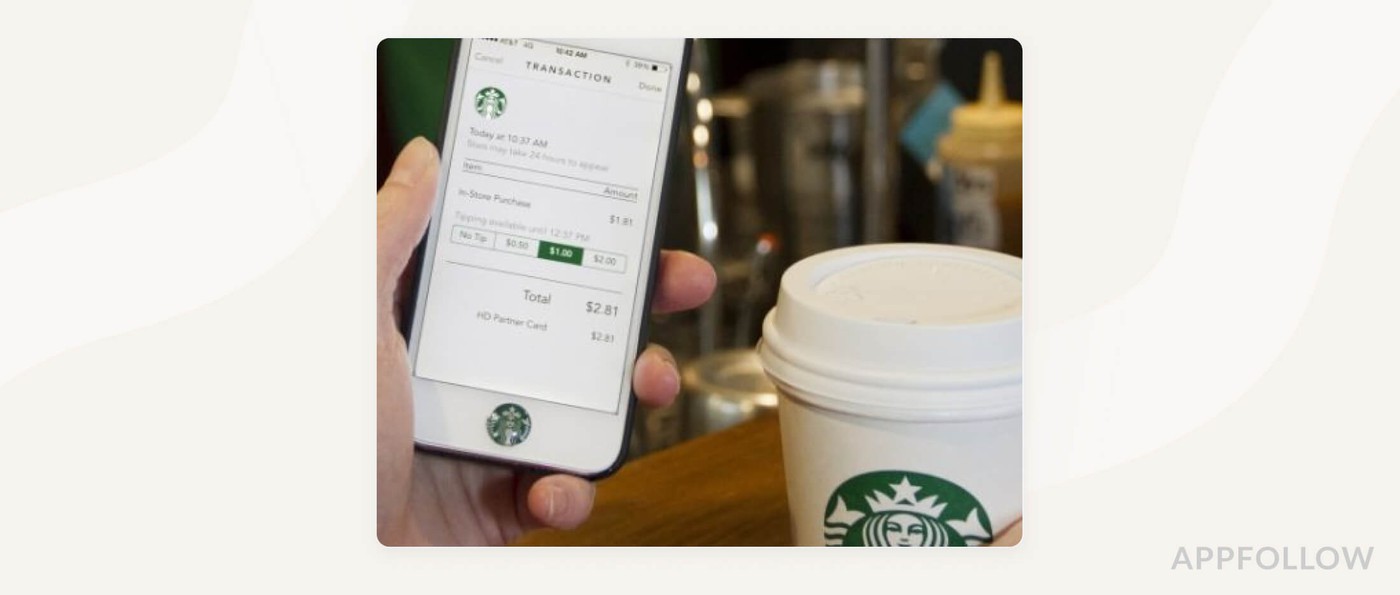 How do free apps make money?
Boiling it down, there are two ways a free app can make money.
If you're creating a completely free app, the way you will make money is through offering services that will create revenue for your business.
The aim of the game is to direct users to services through the app, rather than the app making money by itself.
This can come as coupons, special offers, and a quick pathway from the app to your store.
Another way you can make money from your free app is by opting-in to in-app advertisements.
Within this strategy, advertisers will pay rent for advertising space in your app. Customers will see the ads when they enter the app, or trigger one by using the app in a certain way.
It is worth bearing in mind that creating a free app with your revenue being ads is a great way to gain a lot of users quickly. Who doesn't like free things?
However, maintaining the level of users is key. If you don't maintain the engagement in an app that relies on ads, it will be difficult to maintain initial profits.
Advantages and disadvantages of choosing a free app strategy
The freemium app pricing model
Like the completely free app, the freemium model excels at generating a large user base. And depending on the initial popularity of the app, this can be quick.
However, the freemium model differs as its focus shifts to providing user-friendly features with functionality.
The app will still work without the user paying anything, but at some point they may pay extra to get more back, such as storage or features.
What types of freemium apps are there?
You will find three main types of freemium apps:
One is where the app is free to download, but to level up, or progress (quickly) users have to pay. This happens mainly in gaming apps. The user can also buy premium boosters as in-app purchases. It's rare that you'll find an app based game without these 'freemium' tendencies.
A second case is where an app offers all its services for free, but only for a set period. Of course, you can debate whether this is 'freemium' or paid with a free trial. But for now, we'll leave it here. After their allotted time, users will have to pay for the app.
The third freemium option is where the app is free but it contains ads. To get rid of the ads, the user can pay a one time fee and "poof" they're gone.
A good example of a successful freemium app is UberEats. UberEats is completely free to download and to use. The only money you're spending is on food from restaurants within the app. However, you can also pay a monthly fee or yearly one-off payment to secure premium features.

Advantages and disadvantages of choosing a freemium app pricing model

The paid app pricing strategy
Call it what it is. A paid app is an app that users pay for, in order to use its services.
Having to pay, when competing against free and freemium, makes paid apps one of the least effective strategies. But don't write it off just yet. In the right circumstances, it can work extremely well.
Traditionally, paid apps use a price tag listed against them, requiring users to spend money before install. This creates a barrier to customer acquisition, with your marketing needing to work harder to convince users to pay for your app.
However, in the last few years, a different variety of paid apps have gained in popularity, and this no doubt is down to the rise in streaming services such as Netflix, Hulu and Apple TV.
These apps offer a service which the user cannot access unless they pay for it. Some apps may require a single one-off payment, whereas apps like Netflix require a constant subscription to use.
Unlike apps which ask for payment before install, these apps are free to download. The beauty here is that it overcomes the barrier of paying for an initial download.
How to make your paid app successful
The success of a paid app lands on the content it provides and how it markets itself.
If the app you're developing doesn't have high-quality content that keeps users returning, then a paid strategy isn't likely to work.
Let's return to Netflix. Not only is there a host of content that can keep users entertained for hours. They are always introducing new content to keep users returning.
Ultimately, you will want to partner all your great content with a targeted marketing campaign. Not only will this help new users find the app, but help legacy users remember why they loved it so much to begin with.
Should you have a one-off payment or use a subscription model ?
Essentially, it comes down to whether you think your app needs a one time payment or should be a subscription model.
A one time payment will be a sensible option if your app offers high-quality features, but you don't plan on offering much in the way of regular new content.
However, if you plan on releasing regular new content and updates that will keep users returning, then a subscription plan might be the pricing strategy for you.
Advantages and disadvantages of choosing a paid app pricing strategy
The paymium pricing strategy
This concept involves taking two previous concepts and marrying them together. With paymium, the user pays a one time payment for your app much like a paid app. However, later you introduce new features. The user can only access these with additional payments.
This strategy only really works if you know you've got an app that will sell… And keep selling.
Some will make the initial outlay small to draw users in. For example, you will see apps charging as little as £0.99 for the initial download, but then start charging for options in the app itself.
This model works best when the value of your app comes from its content. Not only do you have to stress the initial outlay, you also have to provide reasons the user should keep paying.
We can find a good example of how paymium works in mobile gaming classic Angry birds.
First, pay for the game, and once in the game, you can pay for upgrades and additional features. Another well-known example is Minecraft, which comes with a host of in-app purchases once you have purchased the initial game.
Using AppFollow's Semantic analysis to take your monetization to the next level
For developers serious about monetization, it's worth digging deeper into your revenue numbers to see what your paying customers are saying. One way to do this is utilizing customer sentiment analysis. 
By navigating to the "Monetization" section with AppFollow's Semantic analysis, you'll receive insights on your subscriptions, pricing, and even refund requests. You can even compare peaks in refund requests to see if they match with app updates or features, or if there was another trigger.
Advantages and disadvantages of choosing a paymium app pricing strategy
How to choose the right pricing strategy for your app
Now you know about the models, it's time to sit and think about what strategy you want. But how do you choose?
1. Look at your competitors
Look at what others are doing before you set a pricing strategy for your own app. One way to do this is laying out the difference in a competitive matrix. Have you developed a game? Look at how similar types of games are pricing themselves. If they are all free, while you set your own as paid, then you will be at a disadvantage in the market.
Remember, you don't have to stick with one pricing model. Once your app gains traction and you know that your content is worth more than your competitors, you can change to a freemium, paid or paymium model later down the line.
You can use Appfollow to see what users are saying about your competitors regarding pricing, so you can decide on a competitive and effective price.
2. How much time will you be spending on continued development?
A factor in helping you decide how much to price your app should be to analyse how much development time you can put in.
If you are happy to make an app and leave, maybe include the odd update here and there. Then pick a free option.
Remember that consumers who pay money expect the bugs to be worked out. They expect premium features. To put it simply, those who pay expect a return on what they've paid.
If you can offer this, then pick a freemium or paid strategy.
And remember, the more you can offer the consumer, the money you can change for the product. Just make it worth their time and money.
3. Keep your consumer in mind when it comes to price
Your price should be affordable to your users. Your pricing strategy has the dual purpose of bringing in profit while helping to maintain loyalty amongst your customers.
The price should be affordable to all users. Your market and competitor research would have already helped you here
Your potential customer is likely to shop around before settling on a product, so make sure yours stands out. In particular, look at app store optimization tips such as using high-quality imagery and videos to promote the benefits of your app.