How to Choose an App Monetization Strategy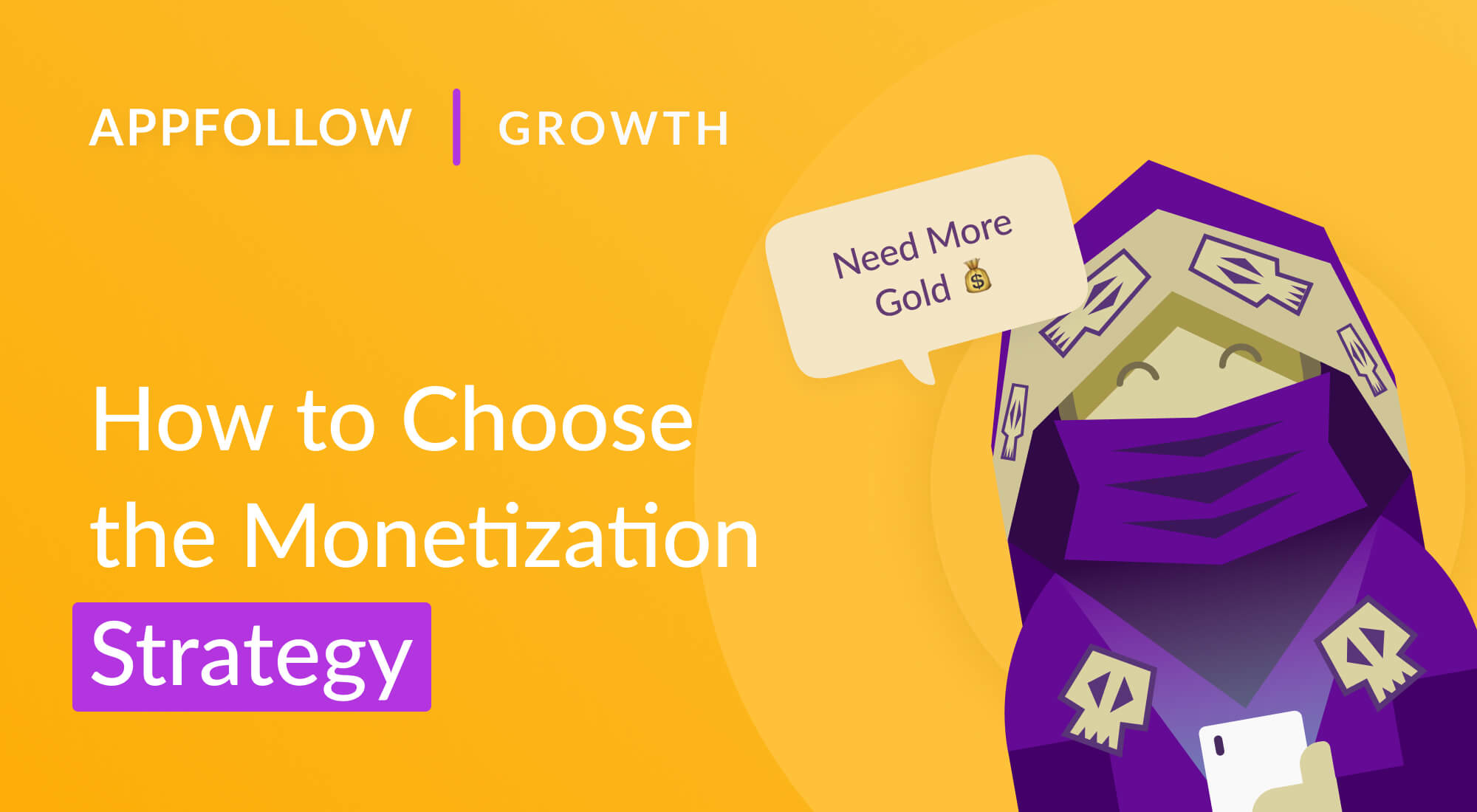 The mobile app market is one of the largest in the world. Billions of people devote countless hours to their phones and tablets every day. This creates endless opportunities for developers to turn their products into sources of stable income and review potential app monetization strategies. Today we will explain all possible ways of monetization and how you can make money with your app.
Why you should monetize in the mobile market
It should come as no surprise that mobile apps can be extremely solid sources of income. The total number of app downloads in 2018 is 194 billion and its number keeps growing every year.
The overall number of app users globally is exceeding 5 billion and their global revenue is forecasted to reach 189 billion dollars by 2020, according to recent research. Needless to say that so many users present an amazing opportunity for developers to make money with apps.
So what is monetizing an application, in a broad sense? It's how you get money out of your creation. But how to make customers pay you? According to statistics, users tend to spend 50 percent of the time in their most favorite app, while 97 percent of the time is devoted to their personal top 10 apps. Most people prefer social media, like Facebook and Whatsapp, or entertainment, such as YouTube or Netflix.
signup_boosting
As a smaller developer, you will have to compete for your users' time with these giants, and choosing the right monetization strategy can either help you by enhancing your app user experience or scare away your audience.
Mobile App Pricing Strategies
When it comes to the mobile industry, the right mobile app monetization model can make or break your success as a developer. There are a lot of options when you review app monetization options and some would suit certain app types better than others. Once you dive deeper into the topic, it becomes apparent that even nuances like different user behavior in different stores can play a significant role.
These are the most widely used ways to monetize your app. You can choose the best monetization model for your app. Later in the article, we will also take a more in-depth look at each monetization method.
Premium/light apps
When you create and publish two versions of your application. The light version is available for free and allows users to access its core functionality. More advanced features remain blocked, and to unlock them users have to pay a one-time up-front fee which they can do either by downloading a premium app or purchasing a premium version right from the free app.


In-app subscriptions
Subscriptions are charged on a regular basis, usually monthly, once in three or six months or even once a year. They give customers access to additional content that is normally blocked behind a paywall.
In-app purchases
Instead of charging for your content regularly, you can create premium content that requires a single-time payment to unlock. An app using this method will usually have free and premium content which allows to lure users in with more general information first and then offer to purchase something more complete or in-depth.
Paid apps
This method assumes that users have to pay for your product before downloading it. Users mostly don't like to pay upfront, so this approach may work if an app is well-known or there is no other competitors available for free.
Advertising
A-la the ad monetization strategy. You can use several ad networks that allow you to display ads in your application and make money for clicks or impressions. Ads are available in a variety of formats, each of which can work better or worse depending on your app category. Furthermore, certain networks provide more options and are more friendly when it comes to ease of use, while others require some development experience to set up.
Rewarded content
A form of ad-based monetization in which users are offered to complete an action and get a certain in-app benefit in return. Such actions usually include watching a video or downloading other apps from the store.
Analysis of Mobile Business Models
Let's move to the various monetization models and the advantages and disadvantages of each one. So, let's look at the best google play and app store monetization strategies and models.
1. Subscriptions
This payment method is becoming more and more popular. What's more, according to a study, the engagement rate for subscription apps has risen 32 percent from 2017 to 2018, and this trend is only continuing in 2019.
Subscription is a recurring payment that is billed regularly over a set period of time. Every month, for example. Subscribed customers get access to the content or premium features. Subscription is used when you provide a lot of quality content or deliver regular services or goods.
Apps that use subscriptions as the chosen monetization method usually provide a free test period when customers can enjoy all premium features for free. One month or 14 days are popular periods. This helps to improve conversion into paying users.
Example:
For instance, the Spotify app charges money for access to their exclusive library of content.
The most popular streaming service Netflix requires users to subscribe to unlock the content. Netflix provides a free month to try out the service and then offers 3 payment options with the cheapest one having the worst streaming quality and the most expensive one allowing to stream in 4K.
Pros:
Customers are likely to use the app for multiple months which contributes to a higher LifeTime Value.
Allowing users to access the content for free before asking for payment is a great way to test premium features and improve conversion into paying customers.
Cons:
Unless your app provides extremely high-quality content or valuable service, it will be hard to retain customers.
To keep the users engaged an app needs to have a very large or very frequently updated the content library.
It may be tricky to find a good middle ground between providing enough incentive to upgrade to a premium plan and not providing too much in the free version.
2. In-app purchases
One of the most popular monetization methods. And the most popular app monetization strategies within mobile gaming. Despite the fact that only 5% of users make in-app purchases, the revenue gained from this small percentage surprises the revenue made from all other users by 20 times, according to research.
In-app purchases are simply paid-Prosems available in your app. They can exist in a variety of formats:
additional content like new training programs in a fitness app.
an upgrade in a multiplayer video game that gives the user an advantage over the opponents.
a certain amount of in-game currency that can be obtained in exchange for real-world money.
The defining feature of purchases is that a user obtains premium content permanently in exchange for a single time payment within the app.
Example:
An example of an in-app purchase would be the ability to obtain football players for your club in EA FIFA series of games in the ultimate team mode. Even though it is possible to progress in the game without spending money, customers can speed up their progression by buying stronger players for their squad.
Pros:
The core application can remain free of charge which allows attracting more users and improves the conversion into download.
You can still use other monetization methods such as in-app advertising or even charge for a premium app where all paid features will be unlocked.
Cons:
Only 5% of users in app stores actually purchase anything in apps.
It is difficult to predict your revenue from time period to time period.
Customers sometimes make purchases accidentally and your business model should include the possibility of making several refunds.
In-App purchases are significantly more popular in the Apple App Store as compared to the Google Play Store. 7.1% of iOS users make at least one purchase every month versus just 4.6% of Android users. The average purchase: iOS — 12.77 USD vs Android — 6.19 USD
3. Paid Apps
This monetization method is pretty straight forward. Users can only download your app as soon as they make an upfront payment. It works best for applications that solve very specific problems of a relatively narrow target audience or provide a lot of value to the customers. Mobile games also often require up-front payment to download the full version.
Example:
Minecraft is currently the top downloaded paid app. Mad popularity and high levels of trust allow this game to get sold so well despite its steep price for a mobile app (moreover, it includes in-app purchases as well).
Pros:
Since you are getting a fixed amount per download it is very easy to calculate your revenue.
You can expect that customers will leave a good review as all features are unlocked from the get-go and intrusive, and spammy advertisements are completely absent.
Cons:
Getting downloads is more difficult as the trust level is low when you are a lesser-known developer. Users will always rely on app reviews, so you must keep them positive.
You are competing with similar apps that may provide the same core functionality for free, even if the high standard of user experience is somewhat lacking.
You are basically saying no to all other monetization methods if you make your app paid. Users will be disappointed to discover that some functions are hidden behind a paywall or there is distracting advertising.
You need to get a very high rating of at least 4 stars if you want the majority of the customers to even consider downloading your product as long as there is the up-front payment.
4. Mobile Advertising
The mobile advertising market is one of the fastest-growing ad markets on the planet, with global spending on mobile advertising forecasted to reach $274 billion in 2019.
Mobile ad marketing allows developers to earn money while keeping their products completely free. News, entertainment, gaming, and e-commerce apps often approach this method.
Using ads does compromise user experience, as some ad formats can be quite intrusive and distract from your app or content.
Example:
The Huffington Post and Mail Online both adopted mobile ads to monetize their apps.
Pros:
Apps remain free for users allowing to acquire a large user base and improving the conversion into download.
There are a lot of ad providers and ad formats, which allows you to pick the best option.
You can mix in-app advertising with other monetization strategies. A good example is to provide a paid premium version of an app that is ad-free. This will allow you to benefit from customers willing to make an in-app purchase and those who don't want to spend any money at the same time.


Cons:
If you make ads too intrusive, you will compromise user experience and scare your users away.
Ads must be relative to your users' interests in order for this monetization strategy to work.
You need to design your app with ads in mind from the get-go to make sure that they don't end up covering important elements of the interface or content.
There is no universal monetization method for the app store and google play. First of all, you need to make competitors research to find the best ways to monetize apps in your niche.
Types of mobile ads
Mobile ads are not as straightforward as some of the other monetization methods because of the variety of different formats and providers.
Choosing the right format for your app directly influence your revenue and the overall effectiveness of this monetization strategy.
1. Interstitial Ads
Interstitial ads always take all space of a screen and can come in the form of a video or a static image. They usually appear after a user performs an action, like moving from one article to another or clicking a button to start a new level in a video game. Sometimes interstitial ads will appear before exiting to the home screen.
Usually, users will be forced to watch an ad for a few seconds before an "X" symbol will appear, allowing them to close the screen and continue to interact with your application. Even though customers have to spend some time looking at the ad before they are able to close it, interstitial ads are not too intrusive as they don't really block content and usually are very easy to exit.
Image courtesy of Quora
2. Banner ads
Banner ads are probably the most recognizable ad format because we have seen them so many times while browsing not only on our mobile devices but also on our PCs and Macs.
They can come in multiple formats some of which take more of the screen space than others. Thus, the USA Today app has chosen an unobtrusive banner at the bottom of the screen that expands when clicked.
The image above shows two ad types, one of which is interactive. The rich banner on the left allows users to tap on it to display alternate information, increasing the engagement.
Some of ads take up more screen space than others which can increase the conversion into clicks and your ROI as long as the targeting is spot on.
3. Video ads
Video is an extremely engaging format and as long as an ad is well crafted and targeted correctly. One can expect a high click-through rate from this form of mobile advertising.
Keep in mind that a video ad will usually run from 15 seconds up to a minute before it can be skipped which can certainly aggravate some users.
4. Native ads
Native advertisements are designed to look like normal content of your app, which makes them the least intrusive type of mobile advertising that does not distract from the user experience.
If your app has any feed, a native ad would be the best fit, as it looks like one of the news entries. With proper targeting it will only enhance the experience, providing customers with relevant information.
You can see in the example above that the Yahoo News app shows an advertisement right before the news, it looks like another article in the feed and does not distract from the content.
5. Rewarded content
Rewarded ads look very similar to normal ones except they provide users with a certain benefit for watching them.
Such a benefit may include a small number of in-game currency, progression points or exclusive collectible items. Whatever it may be, the key is that users receive an incentive for watching an ad.
In case of video ads, once clicked on, they can't be skipped halfway as opposed to normal videos.
Other ways to earn money from your app
Monetization methods described above are the most popular ways to make money with your app. However, there are other alternative ways that can work well, especially for smaller developers.
1. Partnerships and sponsorships
You can partner with other companies directly and exchange traffic to enhance your other monetization methods. This is most effective when your partner provides a product that is close to the interest of your own user base and preferably even enhances your own app's experience.
Another way of direct interaction with other brands is securing sponsorships. For example, if you have a skateboarding blog, you can reach out to skate companies that produce gear and include information about them in your articles in exchange for a reward.
Of course, securing sponsorships will be easier if you contact smaller companies at first. Getting noticed by large corporations requires you to have a very big user base.
2. Donations
If your application provides a lot of value to a community of people centered around an activity, like photographers or programmers, smaller developers can opt to ask for donations. If people really like your content or product, they will want to support you as a developer.
This monetization method won't work unless you are a single developer — it would not be appropriate for a corporation to request donations from its customers.
3. Data monetization
If your application is used by a lot of people, you can generate information about their behavior and sell it as anonymous data. With modern development tools, collecting information about user behavior is easier than ever before.
At the same time, there are a lot of companies looking for statistics that can help them with the development of their own products. This field is called Big Data and it's a huge market on its own.
To tap into this market, your app needs to have a large user base and ideally collect information about user behavior in a popular field like e-commerce.
How to choose the best monetization strategy for your app
There are several tricks that you can use to reduce the risk of choosing a monetization strategy that does not suit your app type. Let's explore how to narrow down the way of monetizing your app.
Don't neglect what your competitors are doing: your app is not the only one in its category. A good way to see which monetization ways will work best for you is to look at what monetization methods your direct competitors adopt. If the majority of them are using the same monetization strategy, chances are you don't have to reinvent the wheel. For example, find out how much your competitors charge for their subscriptions when choosing the proper price.
Consider your target audience: the narrower your target audience is and the higher their pain level is, the more sense it makes to charge an up-front payment for your app. On the other hand, if your target audience is very wide, you should consider less intrusive ways of monetization that won't scare your customers away.
Consider your unit-economy: try to calculate which way of monetizing can be the most profitable for your particular application. For example, if you expect a lower number of downloads, but your audience is likely to use your app a lot, a subscription-based business model can make a lot of sense.
Research your local market: when coming up with pricing conduct comprehensive research of any local market where you plan on launching your app. Take note of general income levels as well as the pricing of your competition working in the same market. This way you won't have trouble because you priced your app so high people simply can't afford it or so low that you are missing out on a big chunk of potential revenue.
Differences in the monetization strategies in App Store and Google Play
Interestingly, people don't spend money the same in both stores. Data shows that iOS users have a higher tendency to spend money on mobile apps than Android users. That's a prime iOS app monetization opportunity to consider.
This is a result of several factors including lower tolerance to ads among iOS users and more paid content in the App Store as compared to Google Play. Don't forget that Apple products are considered to be premium.
As a result, 46% of iOS users said that they would consider making a purchase to have an ad-free experience compared to only 38% on Android.
The difference is much more significant when it comes to premium app ownership. 45% of Apple users have at least 5 apps that they purchased as compared to only 19% of Android users.
This data clearly indicates that a monetization strategy that does not obscure most of the content behind a paywall and allows customers to get access to the app functionality for free might be more successful in Google Play Store, so an ad monetization strategy suited for Google Play might be best. At the same time, considering the iOS app monetization strategy, App Store users are more likely to make an up-front purchase or pay for a subscription.
How to Increase The Number of Your Paying Customers
So, you have narrowed down the best monetization method for your app and started working on generating revenue. Now you need to decide what is your app monetization method and tailor the user experience to effectively make money.
Thankfully, there are tools that can help you analyze the behavior of your users so that you can make changes to your app and streamline your monetization strategies.
Improve Conversion with Google Analytics
You can use Google Analytics for Firebase to collect in-depth information about how users behave in your app and learn about their engagement. This will help you understand at what point you are starting to lose customers and what changes you need to make to improve the conversion.
Whatever your monetization method is, you will always deal with conversion trying to make users interact with a call to action or staying engaged with your content for as long as possible.
If there is something that stops the users from spending time in your app, you want to know about it and fix it.
You can use Firebase to track the behavior of your customers. Follow this guide to set up your account and you will start gaining useful data within hours after setup.
Grow Game Revenue with Player Analytics
If your app is a video game, you can receive custom-tailored statistics through Player Analytics. This is a service developed by Google that provides a special report about the in-game behavior of your customers.
The service is easy to set up and gives you an insight into how gamers are actually interacting with your app, how far they make it in the game and why they stop playing. Such information is extremely valuable when making informed decisions about changing any aspects of your app.
Summary
App monetization is a huge market that provides enormous potential for developers. With over 195 billion app downloads and $101 billion dollars spent in app stores in 2018, according to this report, the mobile market is going to continue being one of the major revenue sources for companies or all types and scales.
Furthermore, mobile engagement rates are growing every year. The Z-generation is spending 30% more time even in non-gaming apps compared to the older demographic, which means that mobile devices are becoming more important parts of our lives.
Today developers have access to a variety of monetization methods that can work for every type of app, most of which are extremely easy to set up with even the most basic mobile development knowledge.
Equip yourself with an app monetization strategy for Google Play or App Store that suits you best and use this article as a starting point of your journey as a successful mobile app developer.

FAQ

What is Mobile App monetization?
App Motivation is a way of earning money from a free or freemium apps. There are 3 major groups of apps: paid, free and freemium models. 98% of Google Play revenue comes from free apps.
While there are multiple unethical ways to earn on free apps, the most popular is advertisement in the apps and freemium apps, when an app has 2 versions: a limited free one and a premium one you need to pay for.
How do you monetize an app?
There are different ways of monetising an app. Here are the most popular ones:
1. In-app ad-revenue. The most popular service for in-app ads is Google Ads.
2. In-app purchase. Mostly done in mobile games, but can also be implemented in apps. Use it to make users pay for a feature, game currency or armour to get quicker through a level.
3. Paid removal of adds. Somehow resembles freemium way of monetising apps, though here you pay not for a full-featured app, but for simply turning off ads.
4. Sponsorship. Helps companies catch attention of their target audience faster in places they spend the most time in: mobile apps and games.
5. Affiliate programmes. Most of big companies like Apple or Google offer affiliate programmes, that you can earn on.
Think through all the ways of monetizing apps and try a few to understand what fits exactly your app.
How do you monetize an app without ads?
More and more developers stop using ads to monetise their apps. Though this is the most obvious and easiest way to get profit from your apps, there are a few more to consider when thinking about app monetization.
Freemium model. This is good if you have some additional features your users are willing to pay for. Say, pro content in video apps, additional filters like in VSCO or game coins.
Trial period for a paid app. This one will let you show your users what they can access before they are asked to pay for it. Giving them 7, 10, 30 days free trials, adding a smart onboarding to show all the features of the app will help you lock your user down and show them the value of your app so then when the times comes (trial is over), they will gladly pay for the app.
Subscription model. Think Spotify or Netflix. Companies that provide content for money. Even though Spotify has a free plan, they smart way of limiting users in it pushes them to start paying for a premium plan.
Developing white label apps. This one would work well for unique apps that solve companies' problems. Or, say, you just need a simple online shopping app with your logo on it. Many app developers would give you a structure for you to fill it in with your own content and for some additional money they would take their logo down, so the app looks like it was developed by you.

How can I monetize my mobile games?

Mobile games have lots of opportunities to bring you money. Different monetization models, ad networks, ad types and simply paid games. Let's see what is what.
Firstly, always think about your user when developing a game. Unless you are going for the hyper casual category that will disappear from charts and people's phones in a few months and won't bother anyone anymore.
You can simply start with choosing between free and premium models at first. Premium games can bring you money either once when a user buys it. Or regularly if you include a subscription for it. It may happen that users won't prolong their subscription, but there are also way to improve user retention and LTV.
If you don't want to go for the premium model of monetization, you can try In-App Ads. Ad Networks such as Unity, MoPub, AdMob and others give you a variety to choose from. Make up your mind with types of ads you want to use and go.
In-App Purchases can be another way to monetise your mobile game. Create a game currency, crystals or loot that will help users achieve next level faster and easier and there you go.
Most games will combine In-App Ads and In-App Purchases in their apps to make sure they do earn on their users. Try different ways of monetising you mobile game and choose what works the best for you.
How to monetize your app
8 Most Effective Monetization for Apps
Premium apps
Create two version of your application. Premium version will consist of all the best features that are unavailable in light app version.

Subscriptions
A simple monetization model that will charge money every period that you will choose. Usually - monthly.

In-app purchases
Create a premium content with a single-time payment to unlock
Paid Apps
This method assumes that users have to pay before downloading your app.
Advertising
Ad monetization strategy- add a sponsored apps to your application.

Rewarded content
Users can complete an action and get a bonus. It's an ad-based monetization.

Affiliate programs
Promote apps on your application and get commissions.

Upgrade to remove ads
In-app purchase that stops showing ads in your app.

What is monetizing the application
It's a method of making funds from an app without charging for it. Users often don't want to pay for apps because usually apps are offered as free.
How much money do apps make per download?
It's simple to calculate it for paid apps. If you want to earn $100 a day, you need more then 100 downloads for a $1 app. For a free app, it's more complicated to calculate earns. If you want to earn $100 a day with ads, you need at least +- 25000 downloads a day, this will gave you more then $50 and $200 as maximum. It depends on CTR.
App monetization reviews
You can increase your app ranking by answering all of your users' reviews. Sometimes it will help you to increase the conversion rate! Games and software niche is the most difficult. Users monitor reviews and make decisions often.