Samsung Galaxy store reviews now supported!
In today's connected world, tracking customer reviews across all possible platforms is critical for any app developer or business. It's not just about managing online reputation – it's about gaining deep insight into the user experience, identifying areas for improvement, and then using that knowledge to optimize product offerings. By systematically managing reviews, you can accelerate your app's growth trajectory, adapt to changing user preferences, and improve your overall customer service.
That's why we are happy to announce our latest update: AppFollow now supports the Samsung Galaxy Store! With Samsung Galaxy Store reviews now integrated into AppFollow, you can glide through customer feedback from different sources in one click.
Why integrate AppFollow with Samsung Galaxy Store?
Receive all your Samsung Galaxy Store reviews directly into your AppFollow account.
Filter the reviews by date, review rating, country, review text, and more.
Take advantage of our unified solution for monitoring your apps across app stores.
To get started, you simply need to connect your Samsung Galaxy Store with AppFollow and add your apps.
Gain even more insight into customer reviews
The ability to track user feedback quickly and accurately is critical in understanding your reputation and preventing customer churn. As our customer, you no longer need to switch between different platforms to manage reviews from different app stores. With Samsung Galaxy Store reviews now part of AppFollow, you can quickly track customer reviews, ensuring customer satisfaction and ultimately retaining your users.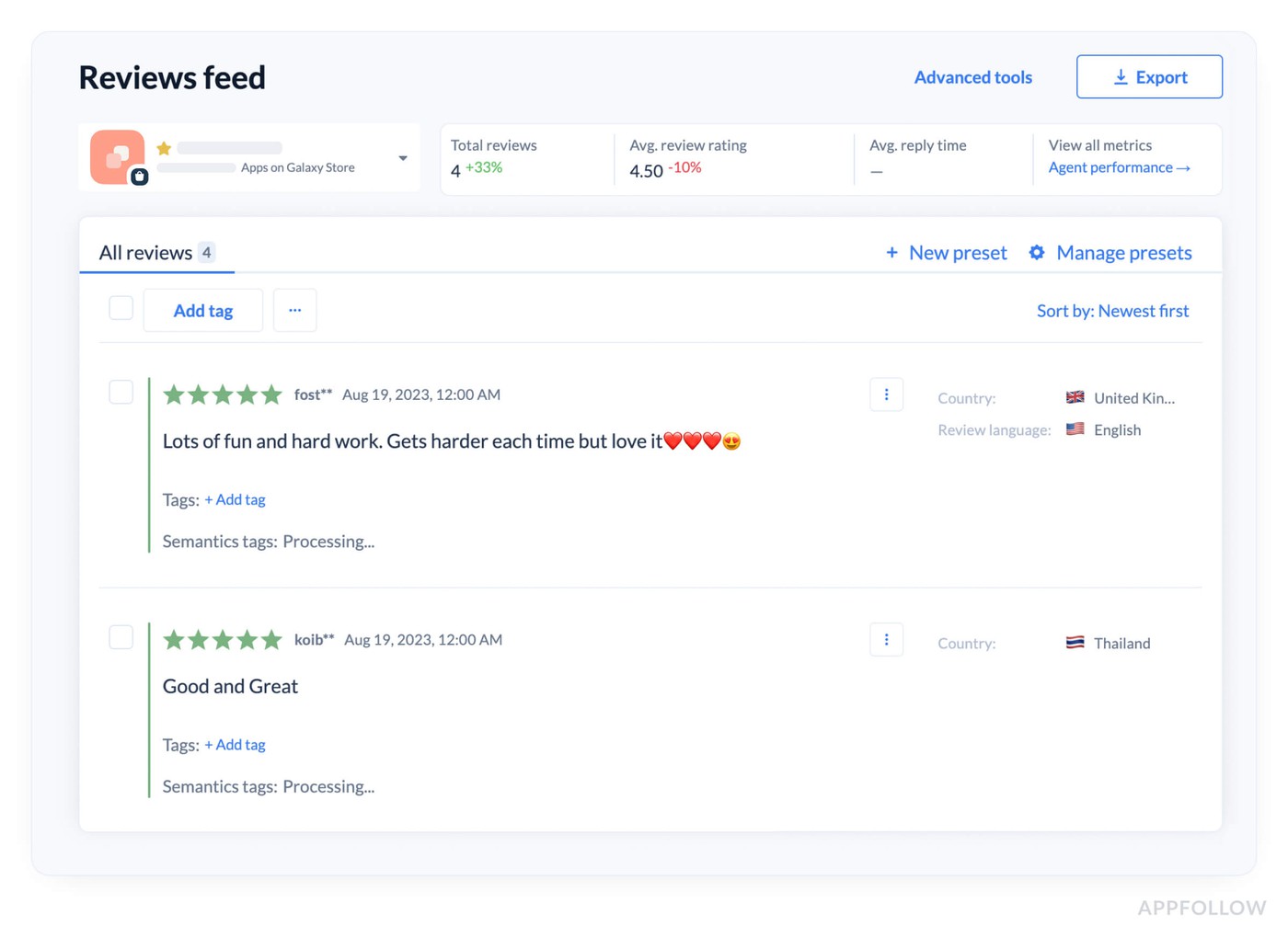 Enhance the quality of your app
Monitoring the quality of your app through customer reviews isn't just a smart move - it's essential for staying in tune with your customer's needs. By monitoring app ratings and user feedback on the Samsung Galaxy Store, you can identify areas for improvement and make tweaks and changes along the way. This isn't just about app quality, but the reputation and perceived value of your brand in the long run.

What's next?
Of course, there's more to come! Feel free to share any ideas about the Samsung Galaxy Store that you find helpful.

Sign in to try this new update, and let us know what you think about our new feature.

Connect your Samsung Galaxy Store account

P.S. Stay tuned for more updates as we continue to improve our platform, and make AppFollow the ultimate tool for managing app reviews - check out our Product Roadmap to see what features and improvements are coming to AppFollow soon.