How to automate customer support routine in 2020
App store users are leaving increasingly more feedback through reviews. We've noticed that lots of publishers get tens of thousands of reviews each month. No matter how big your support team is, that's a tall order to fill.
But, if you analyze review topics using the Semantic Analysis tool, it seems that up to 70% of problems in reviews are roughly the same, and you have a response to them ready to go.
signup_boosting
For instance, after an update that doesn't go so well, a lot of reviews come flooding in about the same error — let's say, users can't log in. Or users from the same country have a typical problem, such as the firewall in China. In cases like these, you have to help users quickly by sharing the solution to the problem in your reply.
To keep the support team from doing rote work, sending the same reply over and over, AppFollow is launching a new tool: Auto-replies. It can help you close hundreds of tickets with similar problems in seconds and create a positive impression of the developer and their product, even if you don't have 24/7 support.
How auto replies can help
Speed up your First reply time and the percentage of reviews you respond to.
Decrease the number of negative and one-off questions in reviews.
Get rid of the routine and stop manually copying templates so you can focus on what's important.
You can update replies to reviews about a problem more quickly after you resolve it while using that to motivate users to increase their rating of your product.
Developers often refuse to use automated replies because they don't want users to think they're robots. Our auto reply system avoids this by allowing you to choose templates that you create by topic to prevent repeats.
How auto-replies work
The auto reply is published as a response to the review that meets the criteria you set. There are two conditions in beta (there will be more later). One is the review's content, the other is the rating, and they can be combined.
Let's say, for example, that we want to reply automatically to users who leave 4-star ratings who write that they like the app. In the reply, we'll ask them to reconsider their rating and to write what we need to do to get to 5 stars. Doing so will help collect feature requests more quickly and to increase your average rating.
We can do this by creating a single reply template and sending it by default. We could also add up to 40 variations of the reply to personalize communication with users. We decided to go with the second choice, so we'll create a folder in the Templates section and add relevant templates to it. We called it "Positive Reviews But Not 5 stars".
Now we can set the conditions for sending the template in the Auto-replies section. In our case, we need to send an auto reply to everybody who leaves a review with 4 stars. We'll also set the text criterion to separate users who wrote about a problem from those who didn't leave 5 stars for other reasons. For example, the review must contain the word 'like' and not contain 'can't'.
If you have several apps, and the templates for one don't apply for the other(s), create rules and templates for each app.
Save the rule, and you're on your way to saving time on replying to reviews. AppFollow will now find the relevant reviews and put the reply template in place without publishing it. The review gets saved as 'Pending approval' with the label "replied via autoreply". You can come back and edit your response before sending it.
After an official release, you'll be able to publish replies automatically.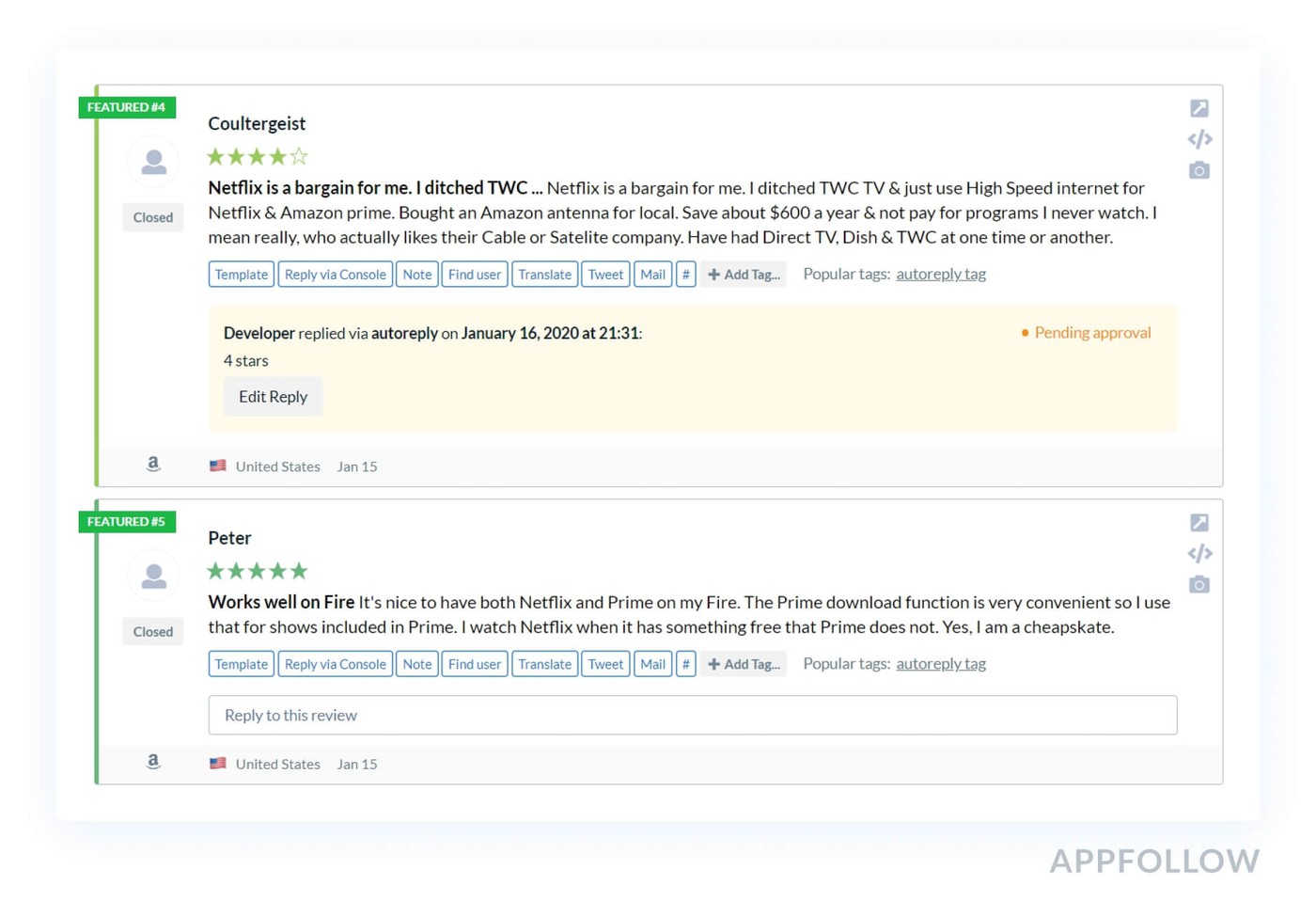 How to sign up for beta testing
Auto-replies are already available to beta testers. To start using them, request access in your account.
Here's some important information for beta testers to know:
Right now, we only offer two criteria for sending replies, the rating and the review text. Need more? Let us know so we can improve the first version for release.
These reviews are currently NOT automatically published. While beta testers examine the tool, reviews with auto replies will be waiting for you to send them in the 'Pending approval'. Once we release the full version, you'll be able to opt in or out of using moderation before publishing auto replies.
Want to speed up your replies to reviews multifold? Sign up for our beta version!
Learn different strategies about how to respond to user reviews here.