Find the best keywords for your ASO strategy: new Keyword Difficulty & Keyword Positioning Map tools
Correct selection of the right keywords leads to a multifold increase in an app's visibility and downloads. But keywords don't always work the way we expect them to. For example, if we pick a search query that's too difficult or competitive, we'll get crushed by bigger competitors. In a best-case scenario, we'll squeeze into the top 100 apps and won't get any coveted downloads. On the other hand, if we stick to a less competitive search query, it may not be popular enough to yield results. If users don't use this search query when searching for an app, there won't be any downloads.
The art of ASO is the pursuit of a balance between a search query's popularity and difficulty. So how can you find a search query that gets enough traffic, but isn't too difficult to outrank your competitors in the top 10?
We've solved that problem at AppFollow by introducing two new tools: Keyword Difficulty and Keyword Positioning Map.
An Overview of your search rankings for ASO
Keyword Positioning Map shows the search queries for which your app ranks in the top 10. The difficulty score is along the X-axis, and the popularity score runs along the Y-axis. Green shows search queries where your app is in the top 3. The redder a search query is, the lower its position.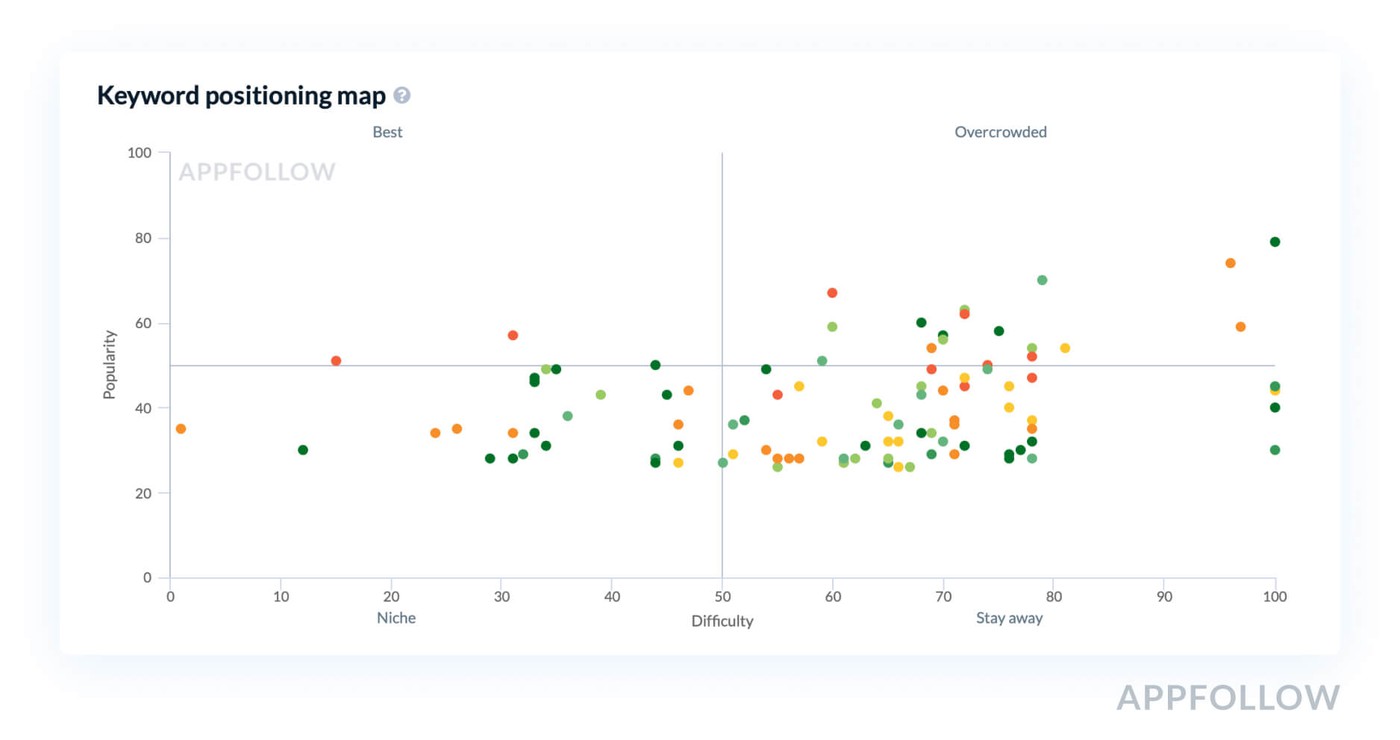 The map is divided into four quadrants:
On the left, you'll see recommended and niche search queries that give your app more chances of moving up.
On the right are highly competitive and 'crowded' search queries that don't offer your app many chances of hitting #1.
To identify your prospects of moving up, we analyze a dozen parameters, including the search query's popularity, how many competitors there are, and what their positions are, among others.
Let's take Jetradar, a plane ticket booking service, as an example. We'll use Keyword Positioning Map to find what area is most promising for ASO growth in the US App Store.
Judging by the map, Jetradar ranks in the top 10 for a lot of difficult and brand-specific search queries (the points on the right), specifically for airline company names. We can say that this is an appropriate niche for ASO growth.
Note: You can do this mini-analysis for all your competitors, too. Doing so will help you see where your app ranks among weaker competitors, and understand which search queries you should try using.
App keyword optimization using words with the right difficulty
We can expand and update our semantic core by using promising search requests from the top 10 as a guide. We'll need the Difficulty indicator to do this. It shows how hard it is for an app to get into the top 10. The closer it is to 100, the more difficult it is. When combined with the popularity score, Difficulty will help to find the most promising keywords.
Let's come back to Jetradar and analyze promising search queries in the Keyword & ASO section. To stop them from getting lost among hundreds of other keywords, let's add them to our Favorites (the star) to keep them at the top of the list.
Thanks to Keyword Difficulty, we see that 'american airlines entertainment' has a low difficulty score (18), so the app has room to rank higher. But, if you take 'american airlines' and 'frontier airlines', they're too difficult to have higher visibility. The search query 'british airways' has the right popularity and difficulty to move from the top 20 to the top 10.
We can go further and find new search queries based on what we've already selected. You can do that by clicking the 'Keyword ideas' button and saving the search queries to your collection.
--

Keyword Difficulty and Keyword Positioning Map help you to easily identify search queries that make it hard for your app to increase its position, as well as those with good growth prospects. Having new, balanced search queries will help your app rank higher in search results (as seen by your Visibility score), which will bring you more downloads.
Want to increase your app's visibility?
Use AppFollow to find the right keywords for you.
signup_boosting