What is Customer Churn? Definition + Calculation + Strategies | AppFollow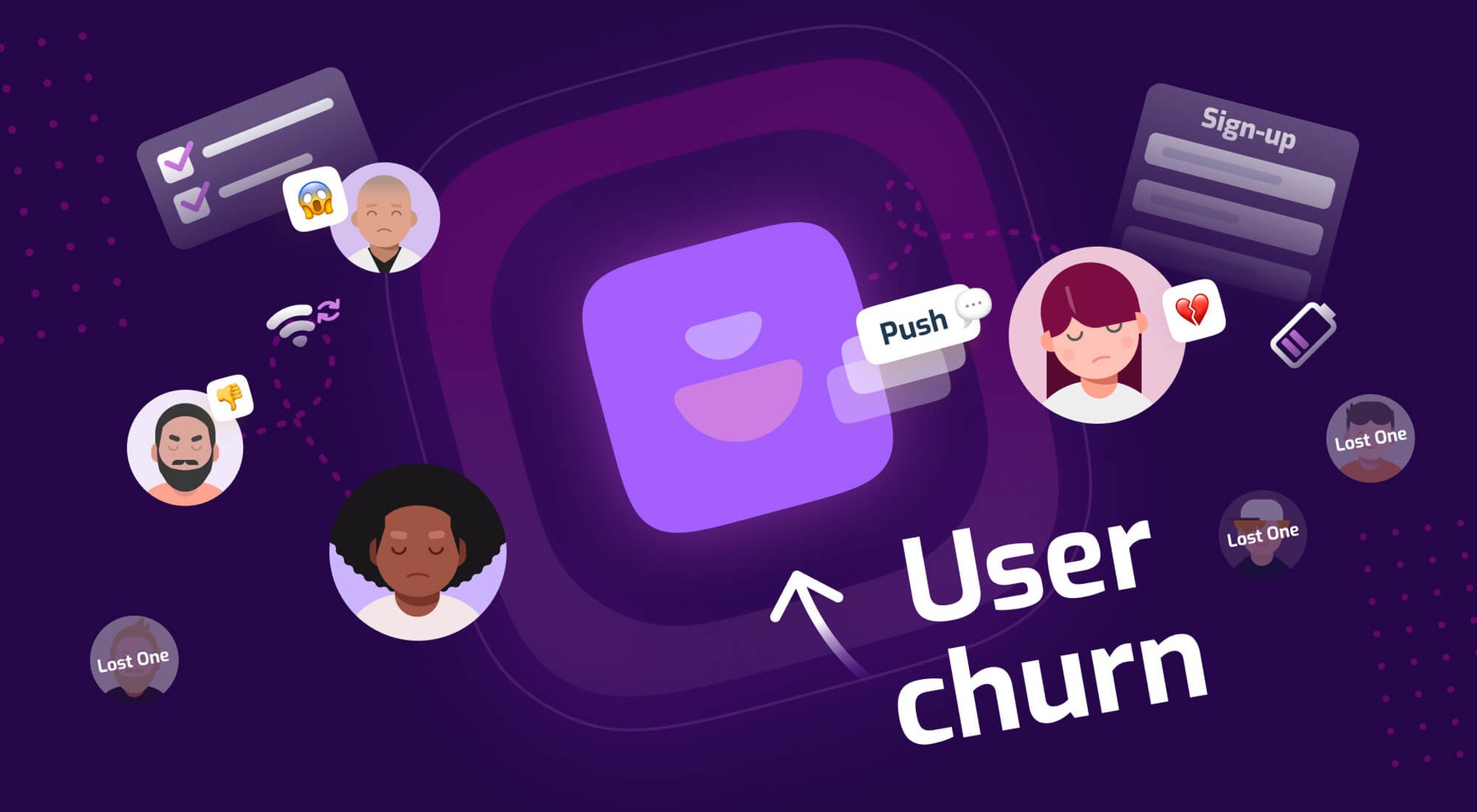 Even the most successful apps in the world cannot keep every user active and engaged forever.
At some point, it's inevitable that some users will stop using your app. The question is, are you using this valuable data to its full potential?
Understanding user churn is an important part of any app marketing strategy, and can help determine what's working or not working for your product roadmap. In this complete guide, we'll explore how identifying weak points in the customer experience can give your app a competitive edge.
What is customer churn rate?
In the simplest terms, churn refers to users that have stopped using an app.
Churn rate is therefore the percentage of users that have installed and then left your app within a given time period.
It can also help to remember that user churn is the opposite of user retention rate, a metric that indicates how many users installed an app and continue to use it within a specified date range.
Why is customer churn important?
Acquiring new users is only half the battle. To really grow, you need to understand why those that drop off sooner than expected are doing so.
Beyond marketing and product development insights, there are a number of proven commercial reasons to be paying attention to user churn and retention rates:
It costs more to acquire a new customer than it does to retain an existing one
It's an old adage, but it still rings true to this day. Though marketing strategists are increasingly shifting their focus from acquisition costs to metrics like customer lifetime value (CLV).
Reducing churn rate can help to increase profitability
It goes without saying; the more you can keep users actively engaged with your app, the more likely they are to generate profit, whether through in-app purchases, advertising revenue or any other means.
Existing customers are easier to sell to than new prospects
If somebody has already converted within your app and had a good experience as a result, there's a pretty good chance they'll be interested in doing it again.
Reducing user churn has a greater impact on growth than acquisition
Trying to fill a bucket with water is a lot harder if the bucket has a hole in the bottom. Plugging the metaphorical hole in the bucket of your app's retention figures will make your existing user acquisition rate far more impactful on growth.
In order to start benefiting from the insights that assessing churn rate brings, you first need to know how to calculate user churn rate for your app.
How to calculate customer churn rate
Depending on your desired time period, data set or use cases, there are a few ways to calculate user churn. We'll cover each of them in detail so that you can decide which is best for your needs.
The simplest way to calculate user churn rate
To calculate user churn rate in the simplest way, subtract the number of users at the end of the period from the number you had at the beginning of it, then divide that by the number of users at the beginning of the time period.
The formula looks like this:
So, for example, if you had 1,000 users at the start of last month and 900 at the end of it, then your churn rate would be 10%.
1,000 - 900 = 100
100 / 1,000 = 10%
If you simply need a quick calculation or have limited data, then this approach can give you a rough idea of your user churn. But if you're looking for something more in-depth, take a look at the alternative formulas below.
How to calculate monthly, quarterly or annual churn rate in detail
If you have your app analytics set up to provide more detailed performance metrics, then you can dig a little deeper and get a clearer picture of user churn.
In this case, you want to first select a time period. It might be monthly, quarterly, or annual churn rate, for example. The length of time will vary depending on the style of app and how frequently they expect users to engage with it. It can be a good idea to review user churn of a combination of short and long time periods, to build a clearer picture of the various customer journeys.
Once you have your chosen time range, you then need three additional metrics:
Users at the start of the time period
Users added during the time period
Users lost during the time period
For the last metric, you will need to decide what constitutes a "lost user". Is it someone who has uninstalled your app? Or is it a user who has not opened the app for 30 days?
Once you have these three figures, simply take the users lost and divide that by the sum of the users at the start and the users added.
Here's what the formula looks like:
So for example, if you had 10,000 users at the start of the year, added 1,500 new users and lost 1,000, then your annual churn rate would be 8.7%.
10,000 + 1,500 = 11,500
1,000 / 11,500 = 8.7%
This method is preferable over the previous one if you have the data, as it takes into account the acquisitions and losses, rather than just the total user count.
Whatever method you choose to use to calculate user churn for your app, the next thing you'll need to do is make sense of it.
What is a good churn rate for mobile apps?
Broadly speaking, a good user churn rate should match or surpass what's seen across similar apps in the marketplace.
As the inverse of churn rate, we can look to recent app retention rate industry benchmarks, which show that the average retention rate on the day of installation is 25.3%. After 30 days, this drops to just 5.7% of users retained.
Of course, churn and retention rate benchmarks will also vary widely depending on the category, for example:
Mobile games of a casual nature retain 32.3% of their users on Day 1, with 4.5% retention by Day 30.
Shopping and marketplace apps benefit from above average retention rates, with 33.7% and 8.7% retention on Days 1 and 30 respectively.
Health & Fitness apps see 20.2% of users retained on Day 1, dropping to 4% by Day 30.
Communication apps receive 22.4% retention on Day 1, with 6% of users retained by Day 30.
What causes customer churn?
If your app has a higher churn rate than you might typically expect, then it's time to start digging into the reasons why. There are a few common reasons for user churn that may be at play:
Lengthy sign-up or onboarding process
If your app is having new users jump through a lot of hoops or sit through slow screens before they can get in, then you may lose them at the first hurdle.
Excessive permissions or privacy concerns
Does the app really need access to a user's contacts or gallery? Your app may be asking a lot of its users, even unintentionally. Excessive permissions can be a red flag.
Too many notifications and low relevance
Nobody likes spam and, while push notifications can be effective when used in a way that benefits users, they can very easily become a turn-off.
Memory usage
If your app requires multiple gigabytes of storage space on a device's hard drive, it becomes an appealing uninstall when a user needs to free up space.
Data usage
If your app requires constant connectivity and data transfer, it may be draining a user's monthly data limit. For online games in particular, this can be a challenge.
Battery usage
Just like mobile data, if your app is excessively draining phone battery due to poor optimisation of processes, then users will soon notice and want to uninstall.
Performance issues
If your app struggles to run on anything but the latest hardware, then you may want to look into performance optimisation to reduce stuttering or crashing.
Switched to a competitor app
This comes down to your competitor app's marketing and how it compares to your app's user experience. Try to stay on-top of category trends and competitor app updates to keep your app ahead.
Not using the app enough
If the app didn't provide an engaging experience, the user won't have any concerns about removing it when they look to clear up space on their device.
Using the app too much
On the other hand, if your app is causing addictive behaviours in its users, they may feel the need to stop using it for their own wellbeing.
How to reduce customer churn
1. Utilize app store optimization (ASO) to engage with the right users
App store optimization is a crucial part of your acquisition strategy and therefore a key part of reducing churn by bringing the intended audience in. Be sure to target valuable keywords to appear in relevant search results, tailor your app store description and follow best practice guidelines for app store screenshots to appeal to your target user.
2. Use tutorials and seamless login to improve the onboarding experience
If your app's functionality is too complex for a user to intuitively understand how it works, you might want to consider a one-time overlay that walks users through the critical information.
In terms of sign-up processes, aim to make this as user friendly as possible and with minimal steps. Giving users the option to create an account with their existing Google or Facebook login is an excellent way to speed this process up.
3. Make the technical experience as smooth as possible
An app that crashes frequently or stutters during usage is sure to frustrate users and they may even consider uninstalling your app.
To avoid this occurring, it is critical to monitor your tech and performance, fixing issues as they arise.
How can you do this? With AppFollow's bug reporting capabilities, staying on-top of tech is easy. By monitoring your app store reviews, our tools will automatically identify those that mention a bug or glitch and then tag, segment and submit them to your developer team for immediate action.
4. Provide an incentive and give users a reason to come back
If you want to avoid user churn, your app needs to give people a reason to come back. In some cases this might be an external trigger, like a hotel booking app user needing to make reservations for an upcoming trip.
While in other categories, apps must rely on creating their own reasons for users to revisit. In these cases, think about how you can give users a sense of progress, rewarding achievements or providing something to look forward to on their return.
Popular language app Duolingo, for example, makes excellent use of badges, progress bars and "streaks" for consecutive days of activity. This helps to encourage users to commit to learning every day, by providing a sense of achievement for their actions.
5. Use push notifications in a way that benefits users
Nobody wants to receive blanket push notifications every few hours. Doing this can be an easy way to trigger an immediate uninstall. Instead, try to tailor notifications to an individual user and their activity, at a time when they will appreciate the heads-up.
Say you're running an eCommerce app, for example. Users might appreciate a notification when an item they've bookmarked has gone on sale or will be discontinued in the coming weeks.
The casual mobile gaming app category is also effective in this aspect. These apps will often push notifications to notify a player that some form of in-game resource has recovered and they can continue to the next level.
6. Pay attention to your audience through review monitoring
If your users are unhappy and likely to churn, there's a good chance they'll tell you about it. Through reviews on your app store page, you have access to first-hand feedback on what users do and don't like about your mobile app.

To help make this easy, AppFollow provides a full suite of tailor-made tools to effectively categorise, analyse and act on reviews to reduce user churn through customer orientation.
7. Test, iterate and continue to monitor user churn
Updating your app based on user feedback you can find using customer sentiment analysis is a great start, but should not be the end of your user churn strategy. To do this effectively, multiple iterations are key. Involve your product design team, conduct A/B tests to determine what works and actively monitor your churn rate over time and across your app's lifecycle.
Some specific exercises you can follow to aid in this process are as follows:
Cohort analysis - Segment your user base to better understand the different journeys and motivations that your app needs to facilitate.
Competitor analysis - What are your competitors doing to drive active users, where are they falling short?
Semantic analysis - How are your users feeling? What qualitative data are they sharing about their experience?