5.8: July product update
Summer is in full bloom and this motivates us to work harder, release new features you longed for faster and do everything to help you do your job better. But enough about us, here is to what you can try in AppFollow 5.8.

Semantic Analysis for 20+ languages, Advanced Customer Support Automation, Ratings and Reviews Dashboard for Google Play, Keyword Intelligence, ASO Search Visibility Benchmark, App Subscriptions report, and Downloads & Revenue Estimates.
That's a lot, and we are shaking from the excitement and can't wait for you to try them all. Let's start.
Review Management Update
Review Semantic Analysis
Know your international customers better with a huge Semantics update. Now, our Review Semantic analysis supports 20 languages, including all major European ones as well as Arabic, Chinese, Japanese, and Korean. Get insights about features requests, bugs, app updates, and more without having a multi-language support or product team.


Having a complete understanding of what users say about your app makes it easier to improve the product and, once queries are addressed, increase your app rating.
Besides, you can spy on your competitors' reviews sentiment too, checking what features their users request in each country, and use this data for building a stronger and more competitive product.
Now, the Product team of an app with a worldwide presence sees insights from most of their users, making it easier to adjust their roadmap and prioritize features. Using our Sentiment tags, Support teams will spend less time identifying critical reviews that need to be addressed ASAP.
Having a complete understanding of what users say about your app makes it easier to improve the product and, once queries are addressed, increase your app rating.
Talk to Sales to request the new Semantic Analysis.

Advanced Customer Support Automation
Increasing the first response time and reply rate has never been easier.
We continue to perfect our automation tools for you to focus on the most important queries of your users eliminating redundancy. In addition to our renewed Semantics Analysis, you can streamline the support of your users even if you don't speak their language.
New Auto-replies and Auto-tags have rules by Reviews Language and Reviews Translation. This means you can and offer a new level of international support responding to your users in their language automatically, 24/7, and with no additional costs.
With these new rules for auto-tags finding all reviews containing a specific query no matter the language becomes much easier. You can create a rule to look for all reviews mentioning, for example, pricing. Our system will search for reviews with "pricing" mentioned in any language and tag them automatically, you don't need to google how to say pricing in Japanese, Arab or German. Magnifique!
Talk to Sales to request the feature trial.
Learn how to increase the first response rate by 2.3 times in just 3 days.
Reviews Dashboard for Google Play Store
The most accurate source of Google Play data with a high-demanded incremental rating for Android apps.
Now, our Ratings and Reviews Dashboard covers both iOS and Android platforms and serves as the tool for monitoring success of your review management strategy, app releases, and identifying performance of your support agents.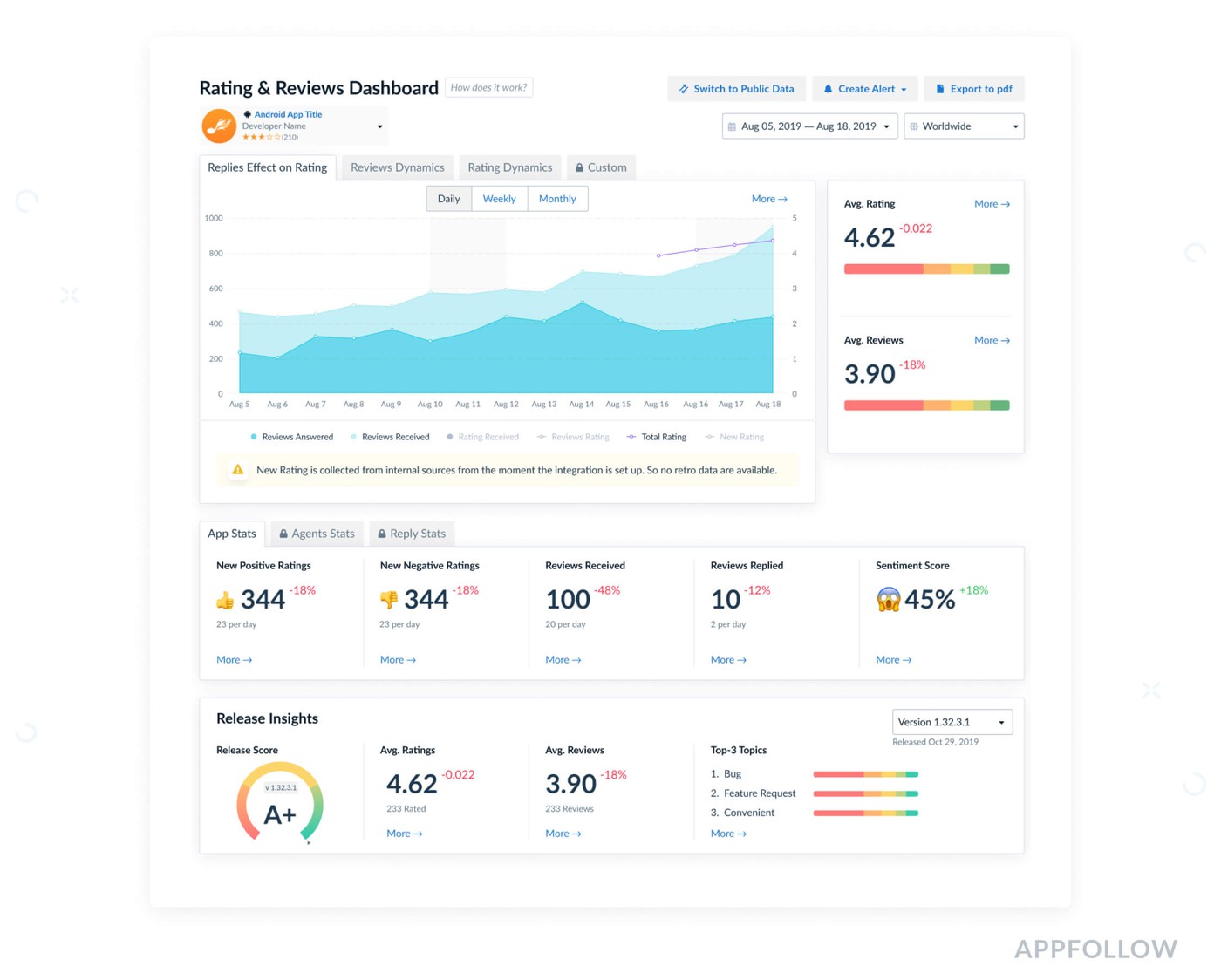 Try the dashboard here.
App Store Optimization Update
Keyword Intelligence
You won't be playing Russian roulette with your organic downloads strategy anymore. Find out what keywords generate organic downloads with our Keyword Intelligence tool. Use keywords your users actually find you with, and ditch those that bring you no or little installs even if they have all the traffic of the world.
Most of the downloads for this app are Branded, but there is still a room for ASO Optimization available.
Keywords Download Share
You can track the same for your competitors, too — easily spy on what keywords bring downloads to their apps, separated by Branded and non-Branded downloads. This allows you to measure the Brand impact on downloads and measure the ASO performance for clean search and organic traffic.

Keyword download share for Hopper app. 75% of the downloads are branded, and Conversion Rate can be boosted by Graphic Optimization, and for the rest of 25% Text Optimization is something that ASO managers should work on.
Most Valuable Keywords
AppFollow will show you all the keywords that generate downloads for a selected app with the download share for every keyword and actual numbers of downloads if you add App Store or Google Play integration. You are able to see what keywords are branded and what are the download share changes during a certain period of time.
Gwent card game is getting most downloads from the different CD Project search terms, but there are also some unexpected terms like "elder scrolls" and others.
Organic visibility benchmark
Have you ever thought about how your app compares to your category in terms of search visibility? Now you can find that out with a single look at our Search Visibility Dashboard.
Your Organic Power Score, the number of keywords you rank for, and Category trend — all that is now on 2 charts. You don't need to add any other apps to your collection, simply add yours and find out if you are among the stars.
See below: Spotify belongs to the 1% of the apps with the best Search Visibility in its category, ranks for 3.2k keywords, and has the highest chances to be discovered by users searching in the App Store for the general search terms like "music".
Search Visibility Analysis benchmark allows you to compare your positive or negative growth with the Category, and see your position across competitors in terms of Search Visibility.
Category trend on the left chart shows that the whole category search visibility is going down — people didn't search for airline tickets those days.
Talk to Sales to request both features trial.
App Analytics Tools Update

Downloads & Revenue Estimates (beta)
A single dashboard to benchmark your app against market leaders and see how many downloads you need to get to the first place in top charts. Data is divided by country, category, and month.
To help you better understand what caused changes in the download trends, we've added hand-picked Insights. They are produced in cooperation by our experts from consulting and analytics teams based on trends in mobile markets. Now you can develop your strategy having all the necessary market data.
Request early access to it here.
App Subscription report
Consoles give nearly all the data for analyzing your app performance, but much needed LTV, conversion from trial to paid, and churn rates. Also, it's time-consuming if you have more than 1 app on one platform. But worry not, this data is shown in our App Subscription report — the go-to place for tracking the dynamic of your app monetization and how well your strategy performs. You can track as many apps as you want, from any platform, in one place.
This report shows your apps':
number of active subscriptions;
net revenue;
new trials;
conversion from trial to paid;
canceled subscription;
LTV (soon).
All this is divided by the subscription type, time frame, and country. We plan to add a benchmark for each of the metrics to give a better understanding of how your app subscriptions grow vs the market.
Talk to Sales to request the feature trial.
One more thing
On August 4th, together with Zendesk and PicsArt we are hosting a webinar "How to increase your customer support efficiency".
During this webinar you will learn:
how to organize your support team: critical roles and team structure for companies of different sizes;
automation: how to automate your workflows, how to identify tasks for bots and when humans should get involved;
work strategy: how do you understand when your support strategy is successful, KPIs, and vanity metrics.
Register here.
That's it for now. Let us know your feedback on the features and stay tuned for new updates. Something big is coming!