4.10 August Update
TL;DR: new ASO tool Keyword Spy; updated Compare Apps and Featured Timelines; review history in Zendesk app; integration with Jira; improved search by reviews, and more.
1. Keyword Spy
You're one click away from finding keywords for any app! AppFollow's new tool Keyword Spy shows which keywords an app is using in the App Store and Google Play. Just type in the app's name and select the country. You don't need to add an app to a collection first. All you need is to choose the keyword(s) that you want to track. This is a great tool for anyone looking to get a leg up on their ASO competitors.
2. Featured Timeline 2.0
App Store and Google Play featuring in one feed. The updated Featured Timeline shows total stats for countries, collections, and position breakdown in Today, Apps, and Games.
3. Compare Apps 2.0
New dashboards for product managers, marketers, and ASO specialists in our updated Compare Apps tool. We've added dashboards broken down by product, ASO, and reviews to make it easier to find product insights, such as which localization to add or where to add extra keywords.
4. Multiple Search by Reviews
Find the crucial reviews by just typing their common topics into the search field. We've added multiple search to Reviews filters and Semantic Analysis to help you quickly find the important feedback. Now it takes no time at all to collect feedback on a new feature or quickly address complaints about an app bug.
You can run your search in one of two ways:
topic1 | topic2 | etc
topic1 & topic2 & etc

5. Reviews history in the Zendesk app
See your whole user interaction history in one place. Zendesk app now groups all review text and rating edits in one ticket. The updated ticket format makes it easier for the support team to track changes in users' moods and react to them promptly.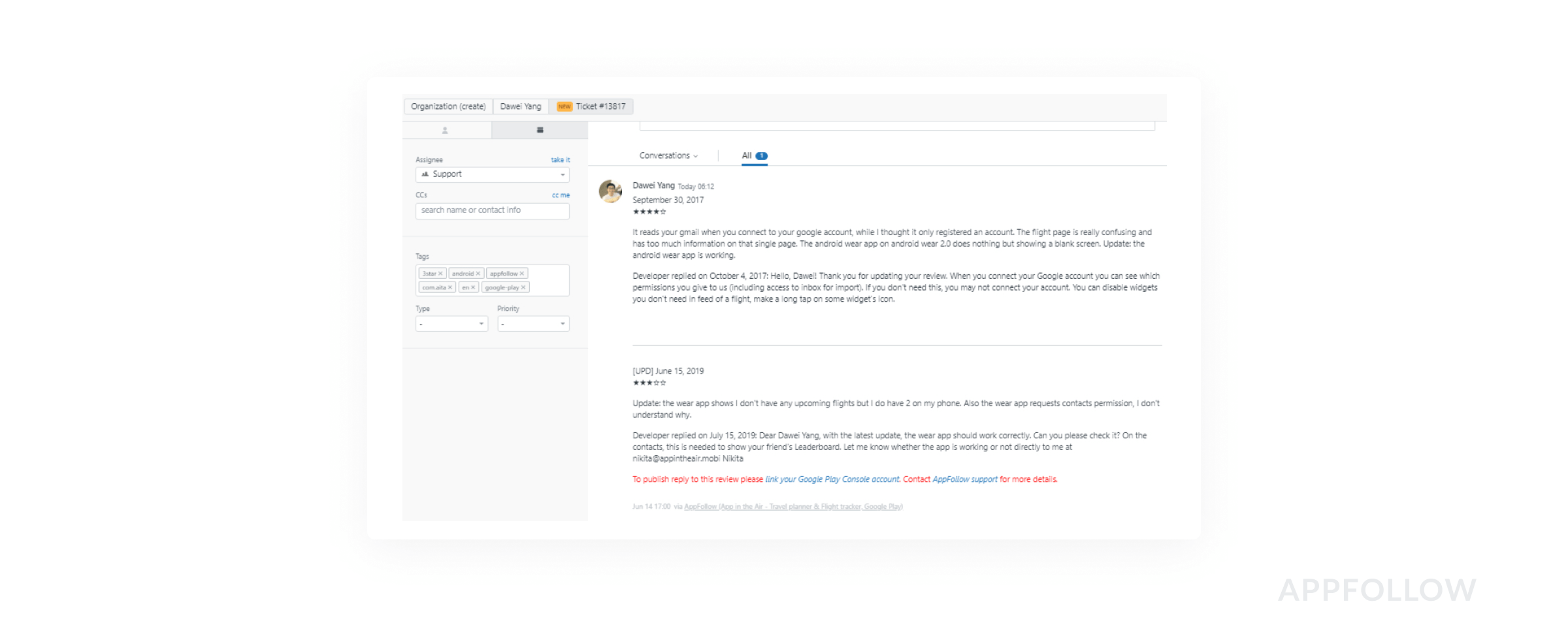 6. New search filters for important reviews
A quicker way to find out what problems your users are facing. Our integrations with Slack, Zendesk, and other Help Desk services now feature review changes filters (became better/worse). Tick the box to get only reviews where the user changed the rating… for better or worse. This will keep you on your toes when it comes to discovering problems. It'll also help you boost user loyalty. The filters can be added to all existing integrations.
7. Jira Integration
Get reviews about bugs and feature requests directly in Jira! Our new integration with Jira sends important reviews where developers need them most. These could be reviews with phrases like "doesn't work", "I can't", or a low rating.

Get reviews in Jira.
One more thing
On September 25, AppFollow is holding the Mobile Online Conference. 12 industry experts will share best practices on ASO, product development, apps monetization, support, and community management.
Be sure to get front-row seats! :)