5 Apple Search Ads best practices to maximize performance
The App Store currently includes over 1.8 million apps, and it's not surprising that attracting users may be quite challenging. Apple Search Ads can be efficient in facing this challenge, but how to boost the effect from paid user acquisition?

In this article, we're going to cover five best practices in running Apple Search Ads that might help you achieve better performance.
1. Add a proxy (testing) campaign to the account structure
A conventional Apple Search Ads account structure suggests 4 campaigns – Brand, Category, Competitor, and Discovery.
A Brand campaign includes a list of exact match keywords directly related to your brand, with the highest bids assigned. Branded keywords are capable of attracting the most high-intent users who come to the App Store with a clear understanding of what they want to find. That's why branded keywords are usually added as an exact match and assigned the highest bids of all.
A Generic campaign includes descriptive keywords, and a Competitor campaign is composed of keywords representing your rival's apps for brand offense purposes. Discovery campaigns generate keyword ideas.
A lot of subscription-based apps and games prefer this semantics-based account structure. But it might be useful to expand it with a Proxy, or Testing, campaign:
Search terms generated by the Discovery campaign lack downstream data. Instead of making a guess about their performance, you can transfer them as exact match keywords to a testing campaign to get data accumulated. After you get enough post-install data, transfer well-performing keywords to Brand, Category, and Competitor campaigns.
Here's what you should do to run a Proxy campaign properly: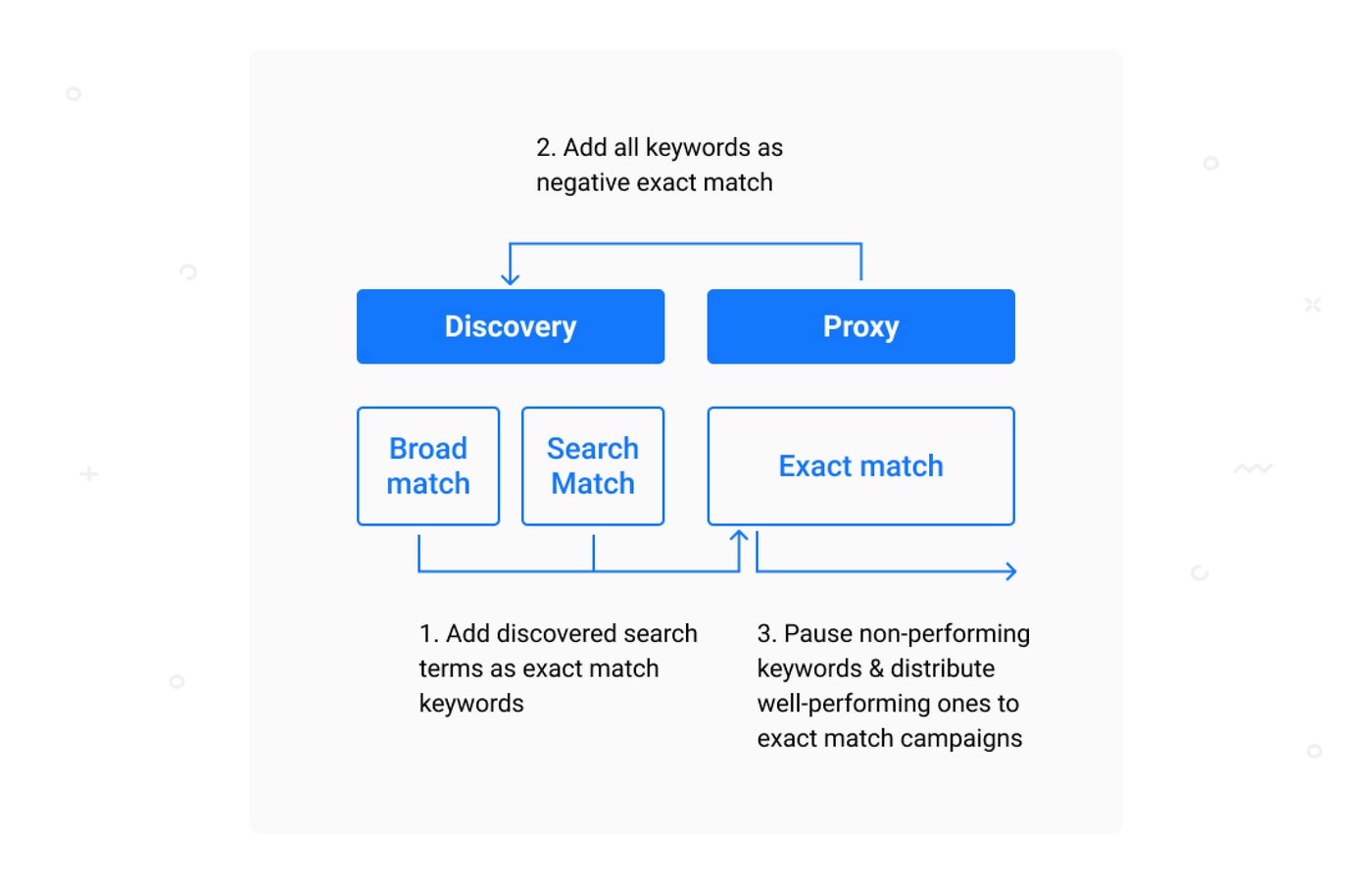 This workflow can take time because you have to repeat it every now and then. However, it is possible to automate steps 1 and 2 with Apple Search Ads automation tools such as Splitmetrics.
Keep in mind that Proxy campaigns might require additional effort and investment since they imply setting quite competitive bids.
2. Work with broad match properly
Discovery campaigns are used to mine for new keywords by using broad match and Search Match.
Search match helps to cover low-volume terms, seasonal searches, as well as to find trending searches.
Search Match automatically matches your ad to relevant search terms without you having to identify and actively bid on keywords. It relies on multiple resources:
Your App Store page metadata;
The information on similar apps in the same genre;
Other search data.
Tip: Note that for effective work with Search Match your App Store metadata should be well optimized.
As for the broad match, to make it work and accelerate the discovery process, it is recommended to transfer exact keywords from Brand, Category, and Competitor campaigns as broad match keywords.
Note that broad match can be too broad and cover close variants of a keyword, such as plurals, misspellings, synonyms, related searches, and phrases that include that search term fully or partially.
Tip: If you are a bit skeptical about discovery campaigns, we recommend you to start with adding only top-performing exact match keywords to broad match in order to spend your budget wisely and find the most relevant & effective keywords.
3. Add negative keywords to discovery campaigns
To avoid competition for impressions, all keywords from your Generic and Competitors campaigns should be added as exact match Negatives into your Discovery campaign. You don't need to show ads for those keywords in terms of several campaigns and compete in the auctions with yourself.
Thanks to multiple opportunities for automation introduced in the SearchAdsHQ platform, you may quickly and easily add your exact keywords to negatives via a specific one-time rule.
Tip: Make the most of the opportunities Apple Search Ads provides. If you have a rather big account with a large number of keywords, you may add 5000 negative keywords at the campaign level and 5000 more negative keywords at the ad group level.
4. Target various types of users
If you have a specific target audience (for example: men, 25-45 years old) you may target them separately via a specific campaign or ad group.
But note that once you've limited your audience, Apple Search Ads will not show your ad to users with LAT On or personalized ads off (for iOS 14). And this could be quite a big share. That's why you might want to create a separate campaign/ad group with all ages and all genders.
Note: to avoid statistical dilution, it's very important to set lower bids for your LAT On + personalized ads off (on iOS 14) users campaign (with New users, all genders & all ages targeting) compared to the bids for your core audience campaign.
Also, don't forget about the returning users because app redownloaders can be a valuable audience to target.
5. Take advantage of the Impression Share report
Make sure that you leverage all the data & analytics Apple Search Ads shares, the Impression Share report in particular. Impression Share report shows the share of impressions your ad received from the total impressions served on the same search terms or keywords, in the same countries and regions.
We recommend you to strive for increasing your impression share percentage for the most relevant keywords. Especially pay attention to the share of voice for your branded keywords, since brand protection is particularly important if you don't want to share your traffic and audience with competitors.
Tip: Regularly check the Impression Share report and make sure you own at least 80% of impressions for your branded keywords.
And here are a few more insights that you might find useful when working with your Impression Share Report.

If you see search terms with high rank but the share of voice for it is low in your Impression Share report, this means that your bid is competitive but there might be some limitations: budget or audience, for example. In such a case we recommend checking daily caps or performing audience refinements.
If a search term has a low rank and at the same time low impression share, this might indicate that your bid is not competitive enough, and we recommend to increase it.