How to increase app downloads by app store review management
Previously, we talked about the correlation between app ratings, reviews, and conversion rates. We also shared a way to get 30k+ ratings every month using in-app native rating requests.
Today we will talk about the workflow and hacks that help you to increase conversion rate and get higher app ratings. Let's take a real case of the Hotellook iOS app. After they implemented in-app native rating requests, they started to get thousands of ratings and reviews – for more than they had expected. 
How to work with this unstoppable flow and catch up with every review and concern?
At AppFollow, we've come up with a four-step formula:
Monitoring
Replying to reviews
Working with featured reviews
Reporting offending and spam reviews.
1. Monitoring reviews
Review monitoring is the best way to detect users' opinions. Bugs that your QA team may not have noticed, new design or features — if something goes wrong with your app, users will be the first to tell you about this. That's why it is important to respond to them before they uninstall the app.
Managing ratings and reviews
You can track reviews via iTunes Connect and Google Play Console. For this, you have to open it every time you want to check your reviews. If you have several apps, be ready to collect data for each of them separately. If you have a support or a dev team, each team member will need to track everything by themselves. The bigger the team is, the more likely you are to miss a new or updated review. The whole process just becomes too long and inconvenient.
In the case of Hotellook, it was obvious that they had to change the way they worked with reviews. The team integrated AppFollow and its monitoring service in their Slack channel. They chose Slack because they had already used it. Alternatively, you can monitor reviews via Zendesk, HelpDesk, email — any desk service you like. Couple clicks and integration is done, every review now is appearing in a special Slack channel: #hotellook_reviews: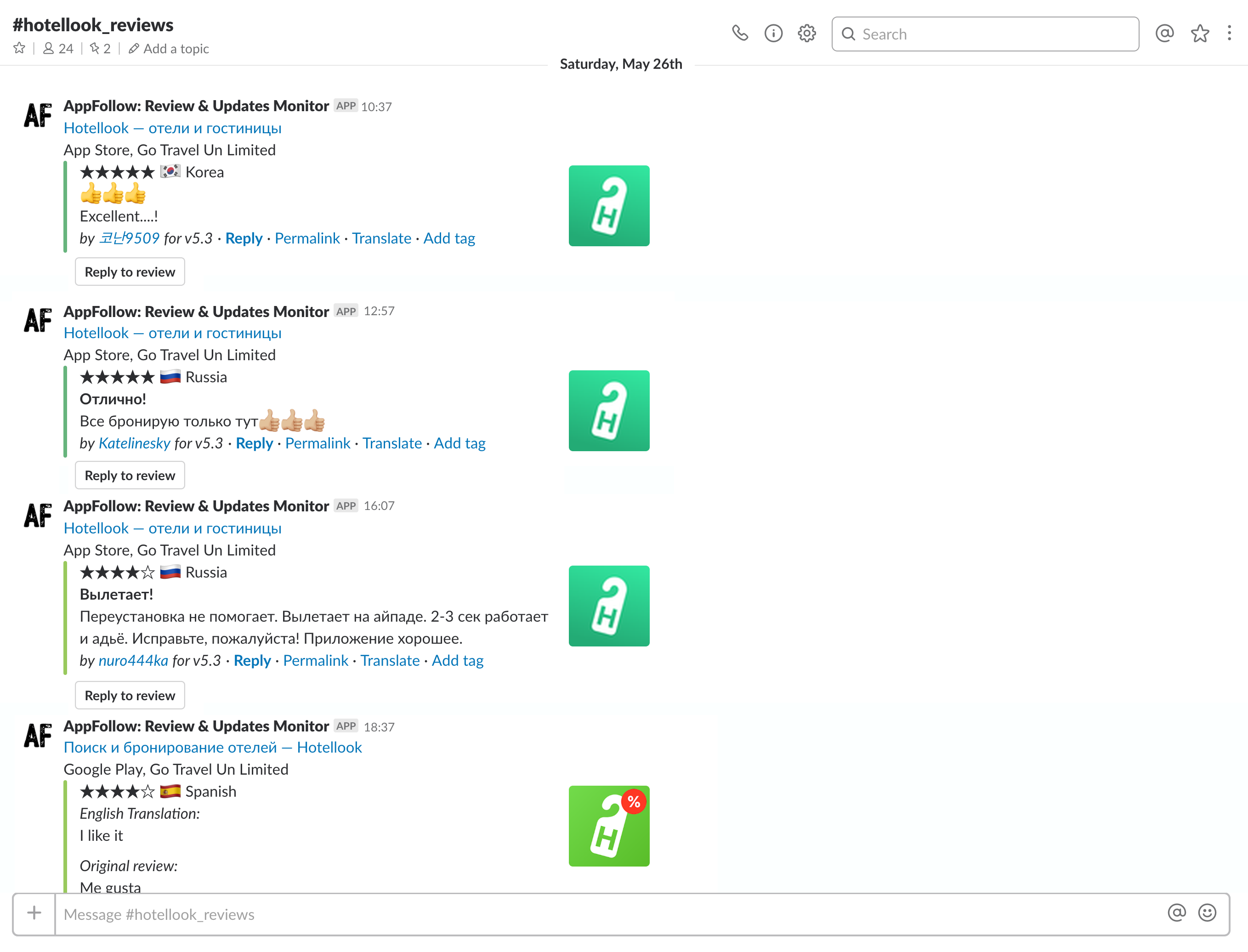 Feedback segmentation from user reviews
To simplify the whole process, the support team divides all reviews into groups using tags. For example, there is a "negative" tag for reviews about bugs, and another one, "request", is for feature requests from users. The first ones go to the QA team, the second ones to the dev team to make them real in future releases.
Tracking ratings 
Despite the average number of stars increasing once the in-app rating request was integrated, the team soon noticed that the percentage of text reviews decreased. This is a predictable reaction: an in-app request asks a user to rate an app, and only after that asks them to submit a review. Most users won't go that far, and as a consequence, the average stars and review ratings will differ. To track those occasions and find the reasons, the team set up Slack Summary Report. It shows everything that happened during the week.
The report shows that the average review rating was 0.5 points lower than the average star rating. This can be a sign of a hidden problem: If users have left negative reviews, something in the app must seriously concern them.
Thanks to AppFollow Slack integration Hotellook team catches up with all users' reactions and can respond appropriately.
signup_boosting
2. Review Management
When a user leaves a review describing a problem, they are eager to get some help. It's important to reply to all reviews, starting with the negative ones. It sends users a message that you do care about their opinion and are ready to help them out. Plain reading of reviews won't bring you, loyal users, even if you do everything they ask.
Replying from your usual channels
Soon after implementing Slack integration, Hotellook began to reply to reviews directly from there.
If you use Zendesk or another service, you can reply to reviews there as well.
Helping a user to update his rating
Sometimes it happens that a user writes a negative review because he couldn't figure out how your app is working. They'd be unlikely going to support – it's far easier to type "It doesn't work", and close the app. At first glance, this review is not all that valuable. However, it can be a potential issue that other users didn't bother to share.
Replying to reviews helps you increase your mobile app download conversion rate. Current users are assured that you're here and ready to help. Potential users see your interaction with current users, which makes them more likely to download it. We know that users often change their negative ratings to positive if they see a quick reaction and help from a developer.
All notifications about review updates appear in the same Slack channel — so the team will never miss any of the changes. In Google Play Console, the developer's reply remains the same even if a review is changed, so it's easy to skip an update if you use Console to reply to reviews.
Using reply templates
To automate the reply process, Hotellook uses reply templates. They have templates to reply to a bug report, a Thanks reply, and a Feature Request one. The templates allow the team to answer such reviews literally in two clicks:
If you'd like to give the templates a try and see how they speed up your Reply to Review routine, drop us a line at help@appfollow.io.
Do not ignore your users
If you don't reply to reviews, your rating will slide down, as users will change their 3–4* reviews to 1* ones. There was a case in December 2017 with a popular app (we won't name it here). The app got 22,580 reviews, and users got replies on 5,864 reviews. By the end of the month, the average rating of reviews with replies slightly increased (0.3 points), but the rating of reviews without replies fell by 0.9 points. Users didn't get a reaction from a developer, and so they updated their reviews with a lower rating.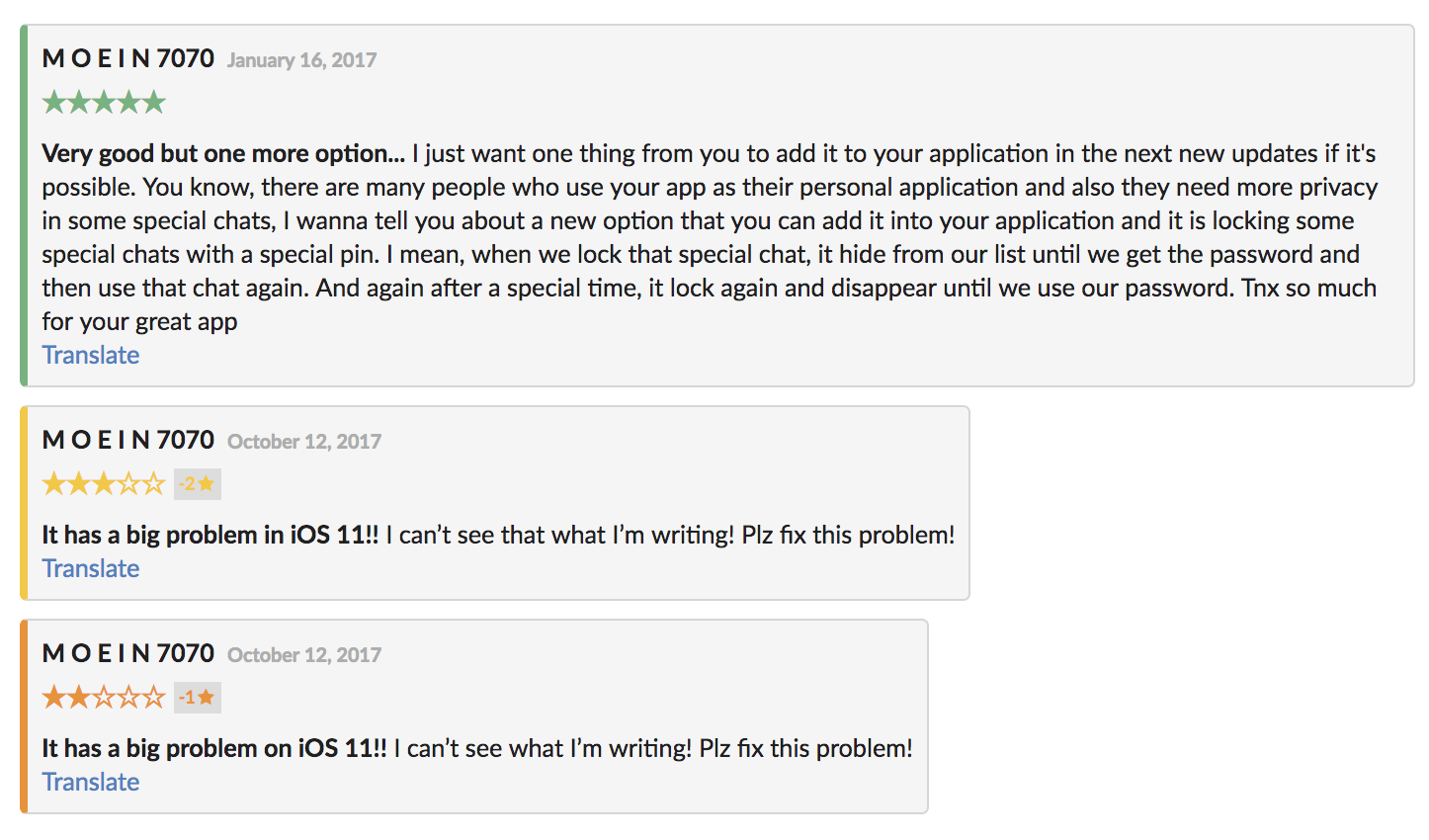 Always strive to communicate with your users, especially when they have given negative feedback. It won't guarantee you an instantaneous result, but users will gradually change their review stars, or at least they won't make them worse.
3. Working with featured reviews
The first reviews on an app page have the strongest effect on your app conversion rate. App Store displays only one featured review, to see the rest of them you need to scroll right. In Google Play there are four featured reviews displayed, and it is crucial that those reviews are positive ones.
Make sure that you reply to featured reviews even if users just say that they are satisfied. By doing this, visitors who are just passing by your app page will see your cooperation with users.
We've done some magic with Aviasales featured reviews — and as a result you see only users' happiness there.

As a result of that change the App Units / Product Page Views conversion rate grew by 8% for Search, and by 4% for Browse channel.
4. Online reputation management for apps 
Often reviews don't correspond to an app itself. For example, a user recommends a competitor and rates your app with 1* review. Regardless of whether this review is paid or not, it affects your conversion in the most negative way. There's a way to deal with such issues, though — by reporting a concern in App Store or Google Play.
Cleaning up offensive and spam reviews from your app page increases app install conversion rates. By doing so, you help new visitors concentrate on positive reviews, and on those that describe your product, and not your competitor.
Hotellook "cleans up the mess" in App Store twice a month. They report all reviews that look like ads, spam, and with strong language. 80% of them are usually deleted afterward. You can apply this approach to your app page, follow our report a concern guideline. Once a store gets several reports, the review will be removed.
Note that it takes up to two weeks for your concern to be considered. As well as these reports, App Store and Google Play have their own algorithms that detect and remove spam. According to our research, Google Play removes up to 90% of paid reviews. However, you can't remove every negative review from your page in this way — both stores have teams that check all reported reviews before removing them.
Summary — 8 months of work
All results should be measurable and make a profit. The described steps helped the app to set up their workflow and start replying to reviews on a regular basis. After 8 months they noticed a huge difference:
The average rate of 4.8 remained the same for almost a year despite the decreasing rating trend in general for the Travel category.
Every single review has a reply.
60% of users changed their reviews from negative to positive after a developer's fast reaction.
Always keep in touch with your users. Replying to reviews is a low-cost but efficient way to bring up loyal users and grow your conversion rate. Check out our awesome mobile app reputation guide for more.
If you wish to increase your app visibility, even more, give our ASO team a shout at aso@appfollow.io.