AppFollow 1.13 — Keywords Chart, Windows Store Support, Compare Tool and API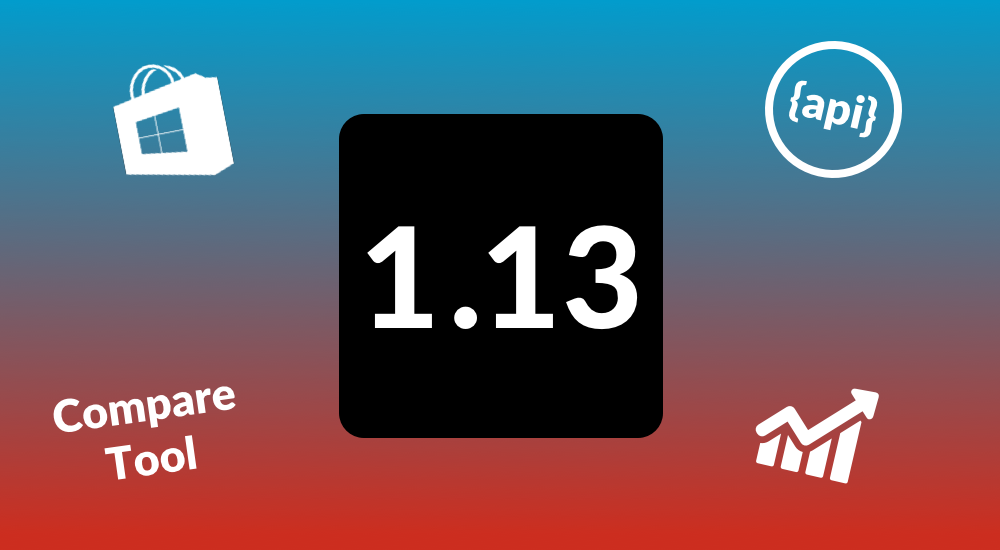 New AppFollow release is now live. And as this version number is 13 (baker's dozen) we felt like doing something special and interesting for our users.
Keyword Ranking Chart for your apps
We now have a chart to track how your apps keywords ranks changed. The chart is built automatically for any app in your collection.
On the chart above you can see the days when new updates were added. This action often results in increase or decrease of keywords rankings.
Below the main chart you can see the Summary table showing every keyphrase from your semantic core. Apps top, neutral and low positions are marked in different colors. All the data can be exported in CSV or Excel file for more handy analysis.
By the way, reports format was elaborated by AppFollow ASO-professionals. These reports help analyse the situation change, e.g. after optimising name, keywords or description.
To access the chart you need to either:
Click "Keywords" on the app page,
Or click app icon in keyword matrix "ASO Keywords".
Windows Store Support
Last year AppFollow started supporting apps on Windows Phone. Recently Microsoft has unified all its app stores to a single one — Windows Store. Now AppFollow is set to work with both desktop and mobile apps from the Windows Store. More details about this update here.
Compare Apps
We developed a new tool for app comparison — Compare Tool.
There are three app comparison types:
1. Common:
Icon, app name and developer's name,
App category and price,
Presence / absence of In-App Purchases,
Supported devices form-factors,
Dates of first and last release, current version number and total number of releases,
Reviews total count,
Install range (only for Google Play apps).
2. Extended:
Supported languages and OS versions list,
IAP list,
Age limits,
Links to app profiles in popular analytic services: App Annie, Sensor Tower и Priori Data.
3. ASO:
Visible part of app name,
Price and size,
Special badges from Apple or Google,
Screenshots and video info for every device type,
Name length, full description and short description (only for Google Play),
Developer's profile availability (only for Google Play).
Now it's easier to compare apps in AppFollow.
We will continue to develop our Compare Tool, stay tuned!
API: new ways and integration with Google Sheets
We extensively updated API and added few more features:
Rankings
Keywords
What's New
Reviews Summary
The detailed information and manual for using API can be found in our Help Center.
To make it easier we integrated AppFollow API with Google Sheets. This way you can easily create a report based on category positions or make a keywords summary report for any app added in AppFollow.
Soon we will improve the integration by making a complete Add-on for Google Sheets.
Keep an eye on our updates!
Featuring Monitor
Last month we added a new option for Premium customers — featuring monitor. It tracks if apps from your app collections are featured by Apple or Google and notifies you about it in Slack.
If you want to get these kind of notifications, get in touch via help@appfollow.io.
Other improvements in brief:
Get invoices in your personal profile,
Get apps collections email reports in the morning (Account > Settings > Daily email reports),
Slack links to your profile are now read-only for any team member; link with auto-login works for two days only,
If you can't use Add to Slack due to confidentiality, now we support Slack WebHook URL as well,
We now collect Short Descriptions for Google Play apps,
We updated apps sorting in keywords matrix (ASO Keywords).
One more thing…
We analysed AppFollow developers commits with Github.com Graphs.
Hours in red are the ones with no commits.
When are you sleeping??
---
Follow AppFollow news in Twitter, Slideshare or on Medium, and we will help you track your competitors apps in App Store, Google Play and Windows Phone Store through Slack, HipChat, Telegram, email and chat-bots.
Start using AppFollow today! Just sign up.
Thanks to Jana Starostovich and Eugeny Krouglov.