AppFollow 3.7: May Edition
TL;DR: Our new release is full of improvements and changes: reviews chart, multifilter to reply to reviews, custom icons for Slack reports, and Xbox and HoloLens apps support in Microsoft Store.
1. Reviews chart (beta)
Guess what's new with Slack reports?
Something very exciting! Check the screenshot below:
We carry on improving our Slack integrations. Now we're in the process of testing reviews charts, which are planned to be a part of reviews report.
If you use daily or monthly Reviews Summary reports, you can be the first to give this feature a try. Just let us know at help@appfollow.io.
Soon we will add this chart to summary reports, so keep in touch.
2. App icons in Slack
If you're following two or more apps, we've introduced a thrilling change for you: now you can choose between Apps and Stores icons while getting reports in Slack.
Here's an example of two reports, one with an App icon and one with a Store icon. You can customize your Slack reports in your account settings:
You can set up your Slack reports whatever you like using AppFollow account settings.
To be honest, it was the most requested feature in April. Thank you all for your requests and feedback ?.
3. Reviews multifilters
We've added the option to choose several parameters while searching for a review; for example, a review without reply, but with users' likes.
4. Metrics of a reviews chart
If you actively use the Reply to Reviews option, tag your reviews using AppFollow and you can use our improved reviews chart with the new metrics: Tags, Replies, and Reply Time.
We've transformed our reports so that the metrics are easier to see and use.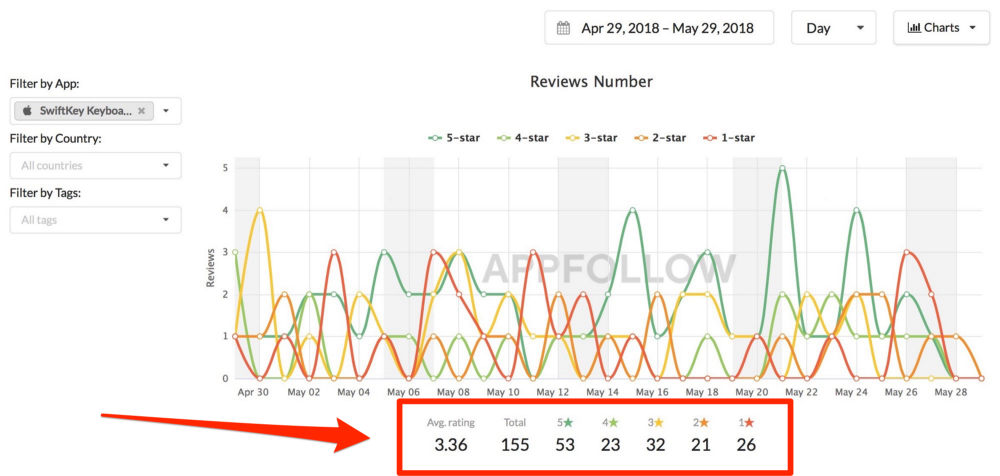 5. Emojis in reviews notifications
A growing number of our users pay attention to popular reviews, as they help improve the conversion rate. So they asked us to make such reviews more visible.
We went further and created several marks: Popular, Removed, Updated, with Likes/Dislikes. They are displayed by means of emojis, so it is now easier to specify the type of a review. The option is available for Slack and email reports.
In the example both reviews are updated by users (a bell emoji) and got liked (a thumb up emoji).
Red exclamation mark means that a review has become popular.
6. Google Play promo banner
As you can see, Google Play is actively using A/B tests. Among its newest features is a promo banner on an app's page. It is an image in the upper part of an app's page on your Android device.
We've started to support these banners. For now they're available for apps updated in May.
Following your competitors seems a bit easier now!
7. Xbox and HoloLens apps support (beta)
Did you forget about Microsoft Store (aka Windows Store)? Well, it's still alive, and preparing something interesting ?.
Now all apps for Windows (PC), Windows Phone (mobile), Xbox and HoloLens VR are available from the solo Microsoft Store.
To keep up with this trend we've added XBox and HoloLens support, so now we cover all types of MS apps. Give us a shout if you have one of these apps and want to try it in AppFollow.
8. GDPR
If you've been missing GDPR updates, here we are to save you with one of our own. As a Finnish company we ought to follow this regulations with all customers of ours. So, as everyone else around, we updated our Privacy policy & User Agreement. To make long story short, we never were & have no plans of sharing or selling any of your data to any third party organisations. We as well use GDPR-compliant services that help us run AppFollow such as Amplitude, Intercom, Segment, Stripe and few more.
If you still have any questions here or any kind of concerns, talk to us anytime on these matters.
One more thing…
Recently we have published several insights that will help you work with ratings and reviews, and choose the right traffic channel.
Please find a minute to read this articles:
Originally posted on AppFollow Blog