6.5: May product update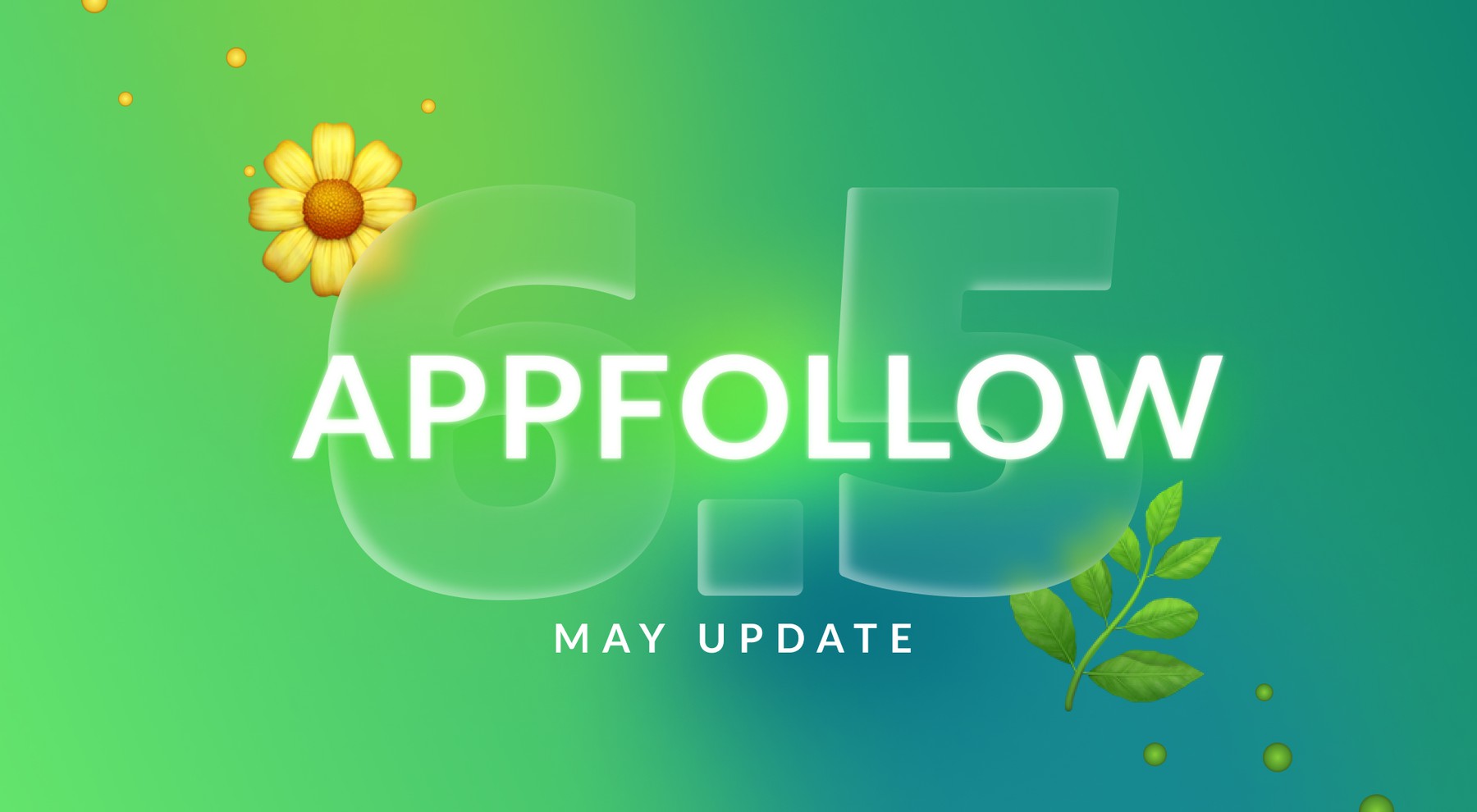 It's been a busy month for product development at AppFollow, and today, we're happy to share a whole host of new features to our platform. This includes an extensive update to our semantics tool, additional sources for tracking agent performance, and game-changing new ways for you to stay ahead of your competition.
Dive into the details below, and we'll be back with more updates next month!
Review Management Tools
Semantic Analysis 3.0

Our Semantic Analysis tool is the ultimate way to gather user feedback, offering a birds eye view of your customers' experience and sentiment. Built based on machine-learning algorithms, the tool continuously analyzes the language within app reviews to identify issues that lead to user dissatisfaction, lower app ratings, and potential uninstalls.
The feature has quickly become a crucial part of many Product Owners', UX designers', Developers, and Customer Success Managers' stack, which is why we're excited to launch our newly-expanded Semantics Analysis 3.0 - so you can dive even deeper into user insights. This includes:
Extension of semantic tags for more thorough review processing and analysis:
23 tags updated
7 brand new tags added
New tag categories developed
Improved tag category logic and naming, making it easier to find and capture reviews related to specific issues:

Monetization - everything concerning in-apps, subscriptions, ads, refunds and pricing are here.
Bugs category - track overall app quality with new tags, such as:

New Hardware Issues tags - Device Issue and Battery;
Security - new tag for data privacy related reviews.
Better Use Case and Feature Request - these tag groups give you ability to dig deep into users pains and struggles.
Semantic analysis broken down by demographics, providing game-changing insights for every international publisher:
Insights can now be broken down by language, country or region. Wonder what's your most common bug in Australia, or what your Spanish-speaking customers think of your product? Use our demographic analysis to uncover Sentiment Score, popular Tag Categories and Tags around the world.
By extending the coverage of our semantic analysis, we're also able to improve the overall accuracy of the tool. And if you're combining this feature with our automation tools, these new tags help drive more precision and efficiency - so you can make intelligent marketing and product decisions that boost retention and lifetime value

All current Semantic Analysis clients will be automatically upgraded to Semantics Analysis 3.0. Demographic analysis is included into all Enterprise Plus plans. Get in touch with our Sales team if you'd like to try it for yourself!


Report a concern Semantic tag
Staying on semantics, we've also released a "Report a Concern" category, with tags to cover every situation where you might want to report and delete a review from the store.
Tags include:
Spam: Covers spammy, scammy or fraudulent reviews, reviews that contains spammy external links or advertisements for other apps or services
Offensive: Aggressive reviews using swear language
No sense: Reviews that don't make any sense, for example random lettering
This feature allows you to detect those reviews on our Reply to Reviews and Semantic Insights pages, or report reviews to the app stores in bulk. You can also use these tags together with the Automated Report a Concern feature to automatically report offensive reviews.

The best thing about this? It's built using a machine-learning model that analyzed successfully deleted reviews, ensuring that the majority of the reviews will be reported and deleted.
Read here how to identify and remove spam and malicious app reviews.
This feature is available together with Semantic Analysis 3.0

Organic Traffic and ASO tools
New ASO keyword limits
A very exciting announcement for every user of our ASO tools: we have changed our keywords limits! Now you will be able to find more keywords that will take you to the top of the search results. Our new limits are:
For our Free plan: 1,000 keywords with a limited ranking history (only the last 7 days are available)
For our Growth plan: 1,000 keywords (no limited ranking history)
For our Advanced Plan: 3,000 keywords
For our Pro Plan: 9,000 keywords
Competitors entity
With our new competitors entity feature, clients can now track up to 300 of their competitors' apps - easily aggregating all publicly sourced data about the app in one place. This game-changing feature is key to performing thorough competitive analysis, and will help you understand where your own strengths and weaknesses are.
Use the tool to:
Evaluate your competitors' ASO strategies
Compare your competitors' performance to your own
Keep track of the changes your competitors implement
Apps-competitors limits are included in every plan. Try now.
Competitors: Visibility
Our latest Competitors: Visibility product is your go-to resource for gaining competitive intel, exploring and analyzing the market, and uncovering market trends. Use it to benchmark your app visibility metrics against others within the industry - the feature includes:
A Country Breakdown, showing app ranking distribution by country.
A Store Performance Index, which combines factors such as ASO performance and organic UA to calculate how strong an app's brand is.
A Ranking section, showcasing the dynamics of an app's rank over a specific time period.
Competitors: Visibility has been automatically enabled for all clients on an Advanced plan. Try it in your account or talk to our Sales team to get access.
New integrations
Ad Revenue dashboard
Thanks to our latest integration with AdMob, we've just released the last piece of the puzzle for customers' revenue coverage - our Ad Revenue dashboard. For clients relying on in-app ad monetization, the dashboard provides a complete overview on where your revenue comes from and how it's performing. You can now:

Process and visualize ad revenue data via Admob integration
Monitor all ad revenue metrics from Admob console, including CTR, clicks and impressions
Visualize and filter data by countries, apps or ad format
Ad Revenue is a free feature for all AppFollow clients. Try it now.
For more information, visit our documentation here.
Smart Alerts
Another exciting development for the month is our Smart Alerts tool: your one-stop-shop for all metric changes, from any section of your product, delivered straight to the channel of your choice - whether that's by Email, Slack, or even Telegram.
You'll be able to choose with KPIs to be notified about, so you only receive the most crucial information. Possible alerts include:
Featured alerts, eg when your app gets featured as App of the Day in the app stores
New Reviews or Ratings Spike, so you can keep an eye on increasing or decreasing ratings and user feedback
Downloads & Revenue Summary, offering analysis of key sales metrics
Available starting from Pro plan. Get in touch with our Sales team if you'd like to try it for yourself.
Reading materials
Looking to further deepen your knowledge of the app marketing industry? Check out our recently released resources:

We recently partnered with MoEngage to release a free online course on user acquisition. Learn how to increase your mobile app installs through ASO and Rating and Review Management, and become a better marketer in the process.

In our most recent case study, we look at how global e-commerce leader Techstyle tracks trending topics and sentiment analysis to uncover user insights. Find out more here.
In our latest webinar, we will be joined by Miro and Zendesk to discuss how to succeed in the CX world, what trends became permanent, and what you do to capitalize on all of it . Join us on June 9th, at 11:00 GMT, to learn more.

One more thing
To wrap up this month's product update, we're happy to share that we're hiring for a range of roles across our product, sales and support departments - all positions are fully remote. Learn more about working at AppFollow and find the full list of roles here.
Have any questions or feedback about new features? We'd love to hear them - please tweet us at @AppFollowIO, or reach out to your dedicated Account Manager. And if you're curious to learn more about the AppFollow platform and how we can help power your growth, request a demo of our features here.