AppFollow Update — Summer Edition
This summer was hot, rainy and certainly very productive for AppFollow.
TL;DR:
Integration with Google Play Developer Console,
Bulk settings for integrations in-app collections,
Ranks chart for categories tops,
Improvements in keywords and reviews monitors.
1. Integration with Google Developer Console
Sign No.1. By default reviews from Google Play are showed without app version and user device (OS version and device name). This data, however, is very important for developers as it helps to localize existing app problems. In one way or another, there is a constant need to visit Google Play Console and check out every review manually. It is, of course, quite time-consuming.
Sign №2. For replying to a user review, it's necessary to have access to Google Play Developer Console. That's inconvenient, especially if the tech support team is big or outsourced, or the password can be simply forgotten.
Problem. Working with reviews in Google Play can be hard to organize properly and it requires many additional actions even though the number of reviews may not be high.
To simplify developers' life AppFollow launched a new integration with Google Play Console via OAuth-client. Once it is set up, supplemental information such as app version and device name will be available. It will be also possible to reply to users directly from AppFollow without visiting the console.
For more details about setting up the integration with Google Play Console check out our Help Centre.
2. Bulk settings for integrations in-app collections
Now there is an opportunity to set up Slack, HipChat, Trello or Zendesk integrations for all apps in your collections at once.
E.g., this allows easily to track competitors' apps if they are placed in one collection. In this case, new versions, updates, category positions and critical reviews about competitor's apps can be monitored in a separate Slack channel.
Bulk settings for integrations will automatically expand to all new apps that will be added to the collection after the initial set-up.
Important: bulk settings for app collection take precedence over settings for single apps. So, the latter will be zeroed if they were set up before.
Learn more about integrations in Help Center.
3. Ranks charts for categories tops
There is a new section on the app page in AppFollow — Rankings. The most important part of it is ranks chart for categories tops. The chart is designed to show rank changes in categories tops of a single app during a particular time period in one selected country.
Ranks data for categories is also available via AppFollow API.
Important: At the moment AppFollow is tracking only top-200 in the App Store and top-120 in Google Play for countries set in-app collection settings. If the app doesn't match these requirements, section Rankings won't be active.
4. Improvements for keywords monitor
We added new filters for keywords search matrix:
by alphabet (Keywords A-Z и Z-A)
by favorite app positions (Positions)
by favorite app positions changes (Change of Position), i.e. sorting by max position gain and loss
by the amount of apps from one collection in search results (Count Apps) or total amount (Total Apps)
Keyword Positions Chart has a new column — Keywords in Title. It shows whether the first 50 symbols of the app name contain searched keywords. This column is crucial since the App Store changed rules in September: from now on app name can be maximum of 50 symbols long. As a result, only this amount of symbols are indexed in apps with longer names.
App positions based on keywords are also available via AppFollow API.
5. Improvements in reviews monitor
We added filters for reviews by the following parameters:
new / old
negative / positive
long / short
All changes and replies to reviews from Google Play are put together in one history view.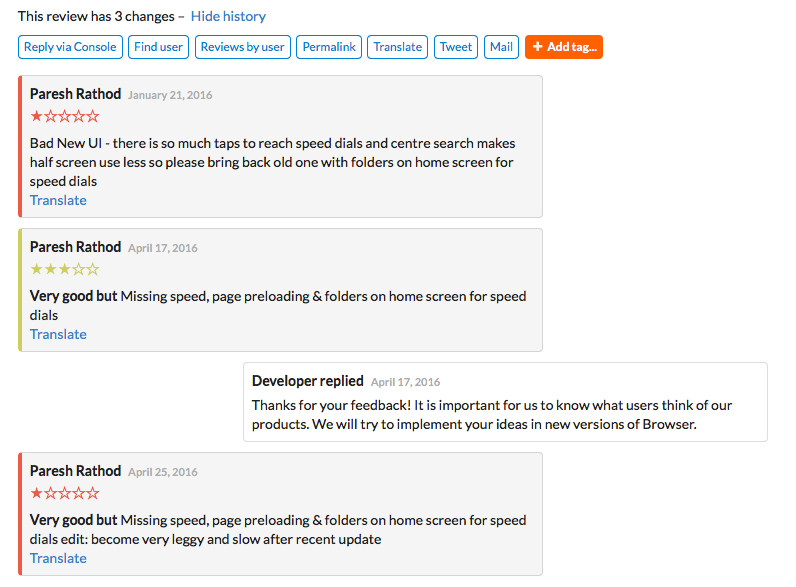 Reviews export is also updated with information about additional features and added tags.
6. Improved multi-user access
Multi-user access to app data on AppFollow became more convenient. Now it's possible to invite any team member with just a few clicks through upper menu Team members and, if necessary, allow to access only selected app collections.
Choose a profile picture for each member of your growing team :)
7. Instead of P. S.
Very soon we will launch AppFollow v2.0 and new web-site.
Keep in touch. A-a-app-follow-appfollow-you-deep-see-baby ?
---
Thanks to Jana Starostovich and Eugeny Krouglov.
---
Follow AppFollow news in Twitter, Slideshare or on Medium, and we will help you to track your competitors apps in App Store, Google Play and Windows Phone Store through Slack, HipChat, Telegram, email, and chat-bots.
Do you have an account? If not, you're welcome to join!