Q&A on Mobile App Reputation Management with Anna Kochetkova | AppFollow's Industry Report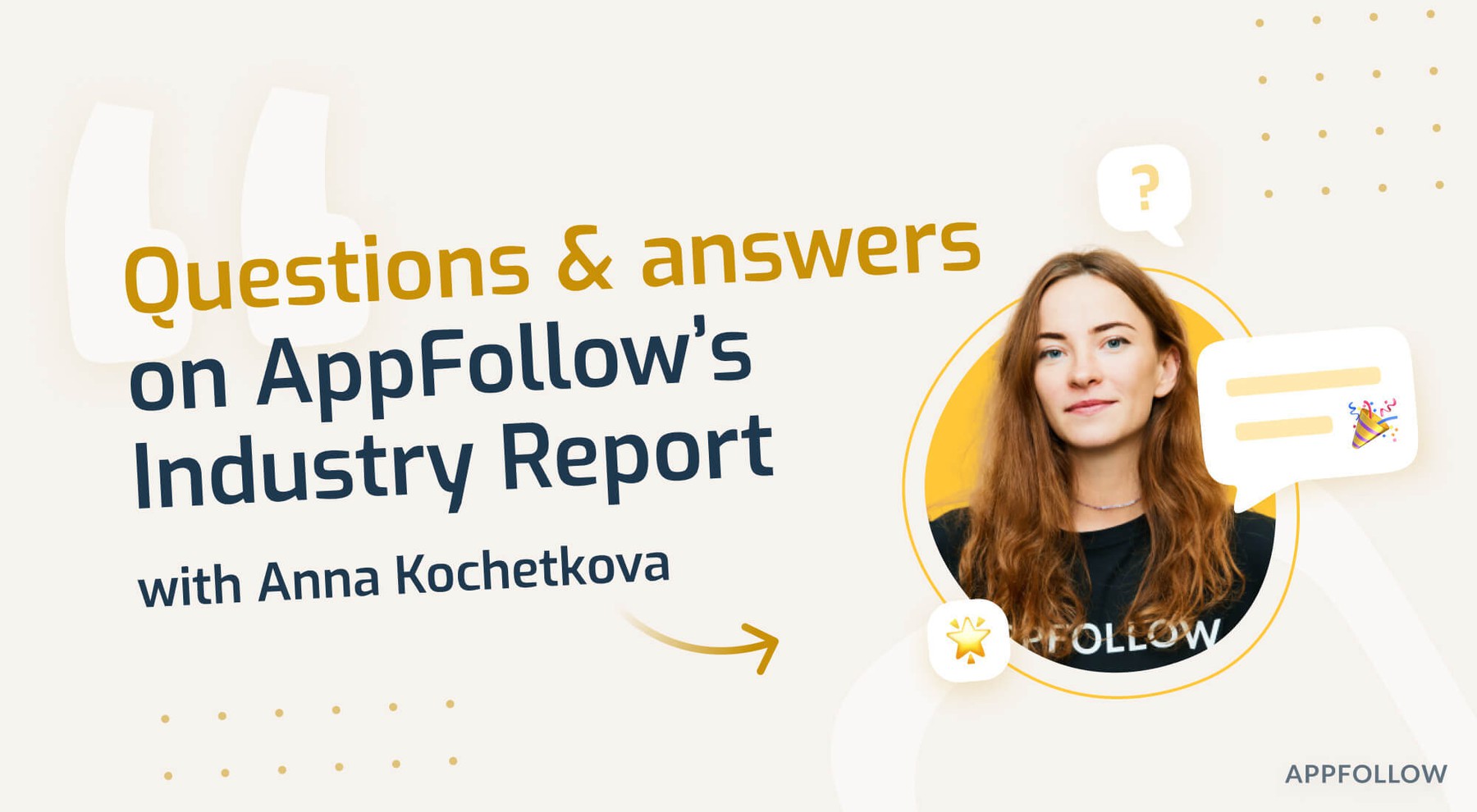 Anna Kochetkova is Head of Consulting at AppFollow and an expert in mobile marketing and app reputation management. Her team of consultants are magicians in the art of mobile growth.
A few weeks ago, AppFollow released an industry report looking at reputation management in the app ecosystem — specifically on how apps deal with user reviews across categories and stores. There were several eye-opening revelations, which we delved into further with Anna to get her two cents...

1. Hi Anna, the industry report found that App Store users are quite a bit more critical in their ratings by reviews than those on the Play Store. What does this mean for companies aiming to build growth strategies in both stores?
This is just one more point illustrating that the overall strategy for working with App Store and Google Play should differ marketing-wise, customer support-wise, and even product-wise. What came first - chicken or the egg? The answer is not clear yet, but the fact remains - platforms themselves have their specifics when creating a different user experience inside the stores, and Android/iOS audience behavioural patterns vary a lot. The high-level growth strategy may be the same but I'd suggest you always validate and test ideas on each platform and then make adjustments to the strategy afterwards. Especially when working with feedback, feedback is like gold dust for this.

2. Another interesting finding was the fact that only 1 out of 10 reviews & 2 out of 10 reviews get a response by app developers on the Play Store & App Store respectively. What may be causing this, and is it not an open goal for apps trying to find ways to create more growth?

Based on my experience, there are two main reasons that cause such a situation on the market:
1. lack of resources for app stores channels to prioritize working with other feedback sources (as communities, public channels, internal app feedback)

2. lack of knowledge on how crucial ratings and reviews are for the app store performance.

The first problem can be easily solved by implementing automation (for example, auto-replies) into the customer support routine & workflows. In all fairness, not all reviews need close attention from the support agent, but developer responses may significantly increase user loyalty. The main argument for an automation strategy inside the reply-to-review process is that it will save your team time and costs as well as satisfy your users.

The second issue is a tad more complicated since there is not that much information right now on the market about this importance. Ignoring users' feedback in reviews lead to consequences (including a drop in the conversion rate, and a spike in uninstalls — a churn frenzy), and I guess one of AppFollow's missions is to reveal the facts of how all these things are related.
3. Mobile Gaming seems to be doing well to satisfy users in the short term. But a lack of response to user reviews in the category and its high churn rate tells a different story, especially for the longer term picture. What could be going on here?
Unfortunately, many things may affect the uninstall/churn rate, and now it's hard to track whether those users who get developer responses for their reviews have a higher LTV or vice versa. But I think this situation is based on a temporary lack of trust in app store reviews for developers as an independent, valuable channel to connect with customers. If we ask a large gaming publisher why it supports its community on Discord, they definitely will have an answer for that. Reviews in the stores have a different format, but work similarly in a sense: imagine that a user reports a problem and the developer ignores it and leaves it unsolved — will this user feel inclined to use the app anymore? From my perspective, it's a shame to lose your valuable users just because, as a gaming company, you couldn't figure out where you moved the login button in the latest update.
4. Another case mentioned in the report was shopping & e-commerce apps. They had on average the lowest response rate of all and when they did respond, they took about a week to do so. What impact does this have on consumer behaviour?
These two categories face very severe issues with irrelevant feedback. Lots of reviews for e-commerce projects may be to do with the quality of goods, delivery processes, sellers' behaviour — things that do not have anything to do with the app itself. So those reviews may not be that insightful for the team and I can imagine why developers do not always focus their close attention on these reviews, sacrificing the reply time. But, it is still worth replying to these reviews, at least when considering brand awareness. A short and simple explanation to users explaining that you cannot be responsible for such issues, but want to create the best user experience for them may neutralize the negative mood and increase customer loyalty. And the faster you react - the more chances you will have to make your response seen. The benefit in this situation is that these reviews can be easily categorized, which means that you can automate a significant part of this work.

5. Fintech is fascinating to watch develop with new and exciting innovations. In the mobile market it's already incredibly competitive, as our report found. How do you see fintech & personal mobile banking trending in the app ecosystem and how can up and coming Finance apps compete?

Fintech rocks. In the last couple of years, there's been a fascinating pivot (especially for banks and Forex/invest apps) from PC to mobile — a big percentage of users have switched to accessing and managing their finances via a mobile device. The increase of the share of users accessing the platforms through mobile for such companies is determined by the increased allocation of resources to mobile compatibility, and I bet that this trend will only grow. Regarding the whole app ecosystem, even though most countries and regions already have their own 'whales' - there continue to be many emerging fintech startups. With this in mind, one of the most powerful methods to acquire more users in this category is through brand development, and a big part of this relies on effective customer support.

The competitive environment means a great boost to product development. It also allows us to choose apps not only based on the features they have but also on how the brand pays attention to its customers. Choosing between two almost identical apps regarding functionality, I would check out the app rating and user feedback about the product.
"Those apps that are not paying attention to their brand development and customer care won't be able to compete with other players successfully - we have too many apps to choose from now."
6. I think here it's worth asking a general question, why is responding to reviews so crucial in the mobile market across categories, and how does this play into future growth?

Well, this is a huge question! to put it simply, I would say working with reviews allows you to:

- increase customer loyalty
- find precious insights about your product (including the feature requests)
- positively affect the average app rating, which will contribute to app growth.
The app market, in general, follows the Pareto "80/20" principle in full - apps with a rating of 4.0 and above receive the absolute majority of app installs and revenue, and those with a 4.5 rating and higher receive the lion's share of users.
I'd also like to mention that if you are interested in getting more valuable insights from app store reviews, check out our Reviews Management academy, which is a step-by-step guide on how you can do so.