AppFollow v1.12: invite your colleagues to work together + Growth Hacker vacancy opening
With our latest update you can now invite new users to your account to collaborate, you can integrate with Zendesk and you can filter reviews by user's name.
We as well opened position for the growth hacker. Description is below.
Multi-user access
AppFollow account owner can now invite any of his colleagues to collaborate on data service aggregates. There are 3 user profiles available:
Admin — same rights as owner has (complete access to everything);
User — full access to app collections management without admission to financial info;
Read-only — read-only access to the account.
Do not forget to choose appropriate profile picture for your new users :-)
Zendesk integration
Any user review from App Store, Google Play or Windows Phone Store can be sent to Zendesk in real time.
If your team or customer support uses Zendesk, you can set up integration in a way only negative (1–2 stars) reviews will be forwarded into the system.
Filtering reviews by user's name
You can now easily find all reviews a specific user wrote for your app or apps in your collection. Just click "Reviews by user" and then choose with a filter a particular app or whole app collection.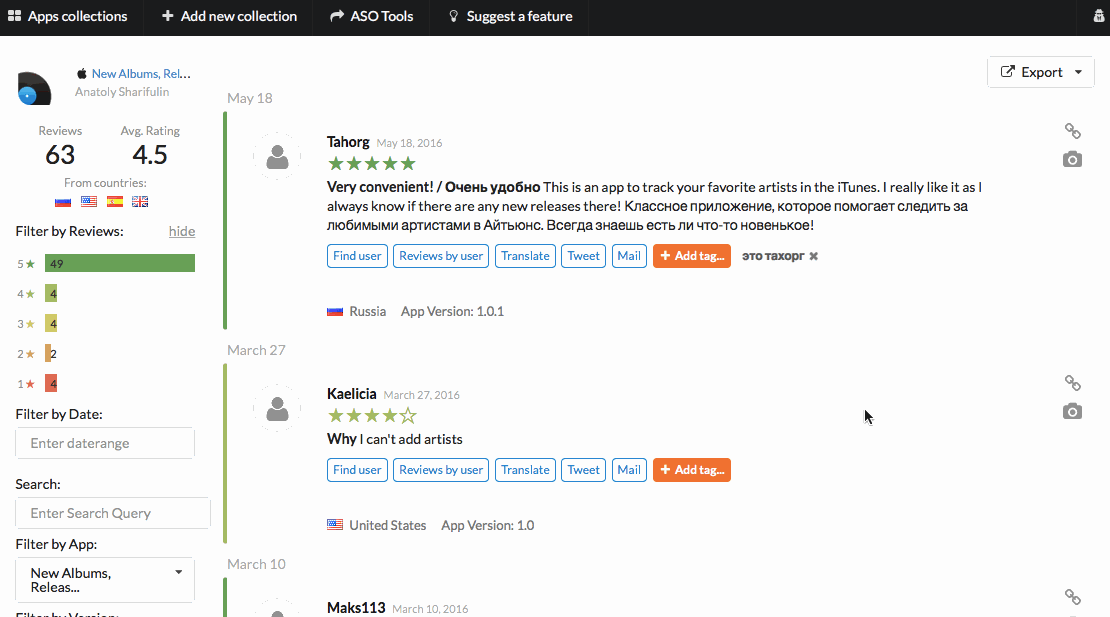 One more thing…
We're looking for growth hacker to join our team ?
An ideal candidate should have good knowledge in digital marketing and be confident analytics tools user. An advantage will be experience in mobile apps marketing and/or knowledge in programming languages and SQL.
One will have to conduct constant data analysis, understand and attract customers from different channels, dig into our service and find weak points.
You can work remotely or with us in co-working place (Moscow or Helsinki). Part-time occupation is possible. Salary and bonuses discussed individually.
Send your CVs or ask us questions on hi@appfollow.io.
---
Follow AppFollow news in Twitter, Slideshare or on Linkedininkedin, and we will help you track your competitors apps in App Store, Google Play and Windows Phone Store through Slack, HipChat, Telegram, email and chat-bots.