ASO Competitor Analysis: Understand how to approach ASO by looking at the competition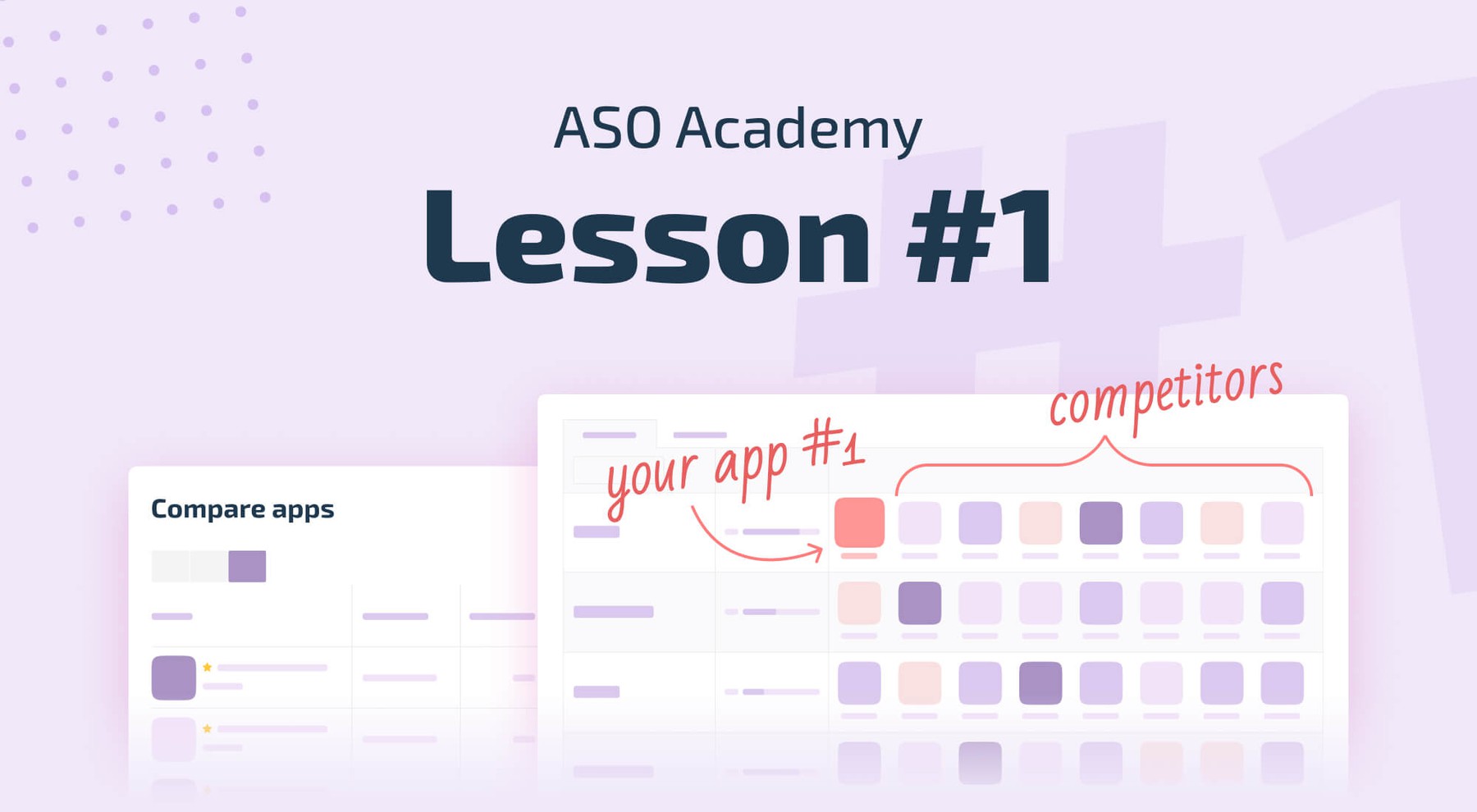 Why would you increase your organic traffic in app stores when paid acquisition is a much quicker way to grow your user base? When developers talk about 'promoting' their product and expecting growth when tracking mobile app installs, many of them mean paid acquisition channels such as Facebook, Google AdWords, Apple Store ads, cross-promotion, and other means. Organic channel, however, is one of the most valuable traffic sources for acquiring new users. Organic traffic yields higher conversion actions (e.g., subscription/in-app purchase) than any other paid channel.
Your app strategy and work with organic traffic starts with App Store Optimization, or more simply — ASO. It means promoting your product in app stores, like the App Store, Google Play, Amazon Appstore, and others. It's app store SEO, more or less. Most ASO marketing activities are aimed at increasing search visibility by optimizing text. But an ASO expert's job covers way more than that. For instance, enhancing the graphics on the app's page aims to increase the download conversion from page views/impressions, which impacts all traffic sources. That's why an increasing number of companies are on the lookout for ASO experts.
Even if you don't have an in-house mobile growth professional or are still waiting to be ready to invest millions in advertising, you should still work with organic channels. Here's a quick guide to getting started:
Study the market and your competitors.
Select keywords and text.
Work on your graphics.
Analyze your product's reviews and average rating.
Publish the changes.
Wait a while and then evaluate the results.
Generate ideas about what you'd like to change.
Return to step 1 and repeat.
Today, we'll start with the first part: analyzing your competitors. You can use it as a part of your pre-launch strategy, and AppFollow will help you understand the competition.
A lot of work goes into performing a comprehensive market analysis before launching a product. Keep it up after you release your product. Many factors change over time, such as local competitors, market trends, and app store algorithms, to name a few. If you fall behind, you'll miss out on precious downloads. Analyzing your competitors will give you hints, new ideas, and product growth areas.
Step 1. Who are your competitors
Identifying your top 5-10 potential competitors is crucial, especially for game developers. Every niche already has 3-5 solid leaders who have been there for years. Let's take a look at an app in the match 3 category. Publishers like 'Playrix' and 'Jam City' are the first to come to mind. Still, it's essential to keep in mind other fast-growing apps, too. They're the ones fighting their way through the long-standing competition on the market, which is precisely what you'll have to do.
To keep your sights set on competitors, we recommend creating a workspace where you can put all the apps that share the same topic. If you have apps and games from different categories, divide them into different workspaces. Here's how to do it:
There are a few ways to identify your 'enemies' and understand the competition:
1. Use keywords. 80% of apps use relevant search requests (book a ticket, watch series online) or category titles (magic puzzle, to-do list, etc.) in their names or descriptions.
For our game app, we will look for competitors who use the keyword 'match 3' in their visible metadata. When we hit the Add new app button and type in our search term, we see our competitors:

2. Check how your competitors are looking in search results. You can do that using the Keyword Live Ranking tool. Select a country, type in a search term, and off we go! We have a list of our competitors at our fingertips. In our case, we're looking at search results for 'match 3'.
Result
Now, you have a collection of competitors to analyze. This will help you define KPIs and track progress.
Step 2. What are your competitors doing with their ASO
It's time to take a closer look at your competitors' app pages and compare them to yours. This helps define the next steps for your ASO and product mobile marketing strategy.
Navigate to the AppFollow App Overview page. It will give you a high-level overview of how well (or not really) the app page is optimized for Search.
ASO & search visibility performance helps you detect competitors that don't work on their textual ASO. These are usually apps with no Subtitles or apps with less than 20 characters used in the Title.
Ratings & reviews performance will give you an idea of what's going on with your competitor's app rating, whether they respond to featured reviews or their average rating.
We recommend that you compare metrics for each country separately.
App Update Timeline makes it easy to see what your competitors are experimenting with. For example, they changed their title or description (keywords!), swapped screenshots (looking for the most converting one), changed the app size, or added new languages (expanding to new markets). Take a look at 'Family Guy Freakin Mobile Game.' They updated their app icon for the Easter marketing campaign.
Result
We've defined the main metrics and benchmarks we should aim for. For example, the highest rating for a match 3 game in our collection is 4.787, the average size is 10MB, and the app pages are localized to several languages. We'll try to outperform competitors in these areas.
Step 3. What you need to do with your ASO
After studying our competitors and defining what we want to improve, it's time to make a list of hypotheses for an app page. It's more accessible to start by optimizing our graphics and textual metadata.
The Keyword Overview feature helps us compare our rankings to our competitors', analyze our app's icon, and validate the relevance of keywords we are targeting.
Take a closer look at the icons your competitors use. See how a bright blue icon stands out from the rest of the apps in the top 10.
If you find a competitor that ranks high in the search results or has outstanding graphics, add them to your collection so you can study them closer.
PRO TIP: Check keywords that generate the most downloads for your competitors.
The feature is called Downloads by Keywords and is available on paid plans. It allows you to identify and leverage keywords that are already generating installs for your competitors. Check whether the same keywords can help you get visibility and installs. If yes, include these keywords in your metadata with the next update.
We don't recommend just copying what your competitors do. Here's a good tactic: see what others are doing and do it better or just differently. You never know what could convert viewers to installers better. It's important to hypothesize and run tests consistently when experimenting with graphics and keywords. The only limit here is the App Store and Google Play guidelines.
When checking the culture and trends of countries you're unfamiliar with, don't limit yourself to mobile products. You can look for new ideas on TV, offline, or websites.

Result
Now, you have some ideas and knowledge on how to use AppFollow for competitive research. So what's next? Now, we should start working on App Store Optimization. At least you know your growth areas. It could be focusing on increasing search visibility, average rating, or download conversion. The next step would be to prioritize these ideas based on the traffic channel that works best for your app.
Search and Browse are different channels, but both bring highly motivated viewers to your app page, who can be converted to app users. Some say that Browse is the new Search. We'll discuss whether that's the case and which channel should be your focus in the next article - as well as how to track mobile app installs, improve user acquisition, and more.
Test Yourself:
Log into AppFollow https://watch.appfollow.io.
Create a workspace and name it.
Find and add 3-5 apps with a similar theme.