Is Browse the New Search? Which Channel to Choose to Increase Organic Downloads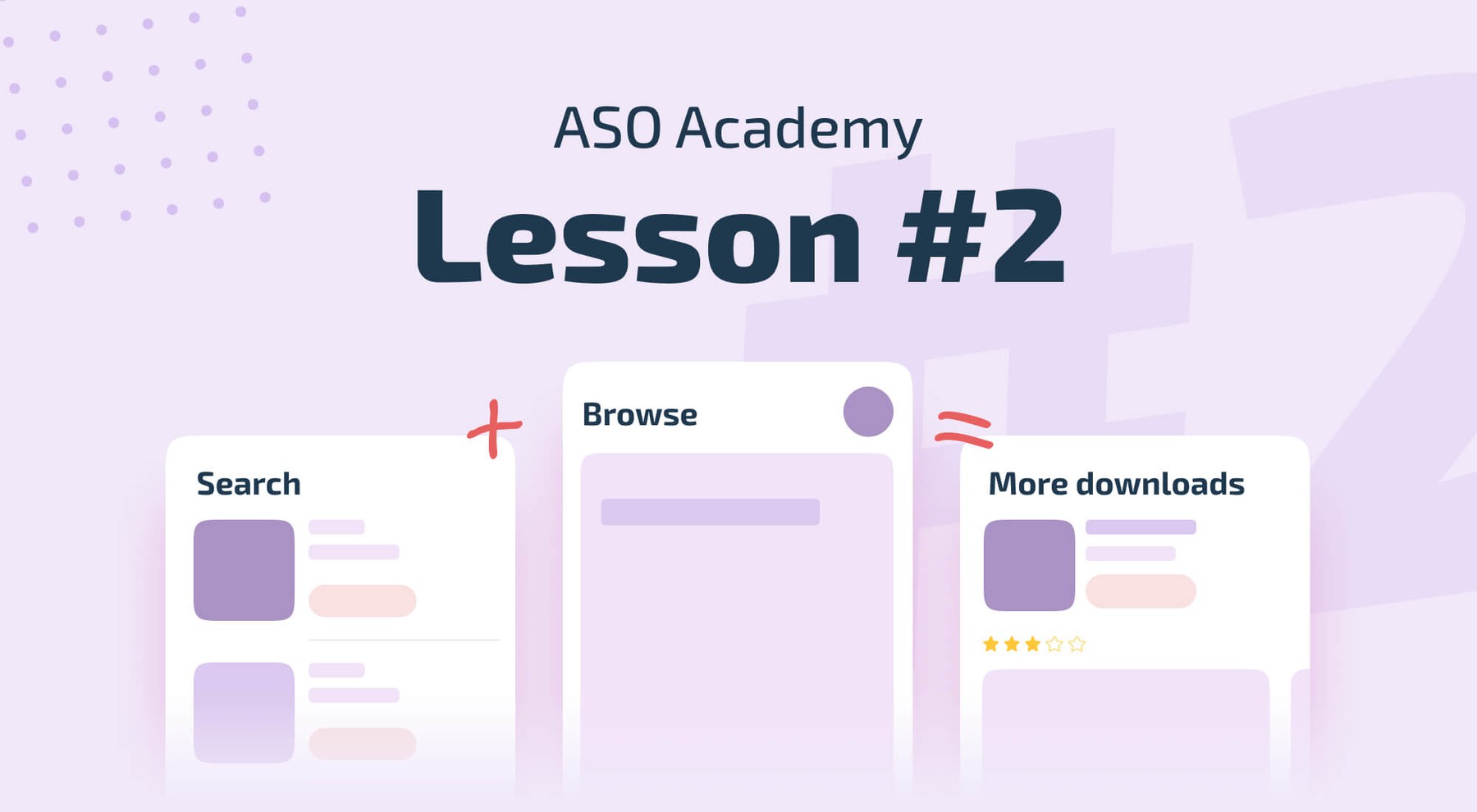 You already know the market position for your application and main competitors. It's time to learn more about traffic channels so you can choose the right one to increase and track mobile app downloads. Today, we won't look at paid channels or cross-promo ones (App and Web Referral channels). Organic traffic in both app stores is divided by Search channel (mobile app installs directly from users searching for specific terms — keywords) and Browse (downloads from featuring, different charts, and categories). Learning how to drive organic installs is crucial if you want to reduce marketing costs.
How Search works
App store search is similar to web search, but the search terms have different purposes. We often type search phrases in a browser without intending to buy anything, like when we search for a weather forecast. In an app store search, however, users always have a problem to solve when they type a request.
We get a long list of search results for the requests in both the app store and the web. But we very rarely scroll through hundreds of them. We tend to choose from among the first few dozen hits. Sometimes, we only look at the first five positions in the search results. That's why the higher an app ranks, the more chances it has to be founded and more downloads it can get.
The App Store
In the App Store search, only two apps can be shown on the screen at the same time. And the first two aren't always organic search results. In countries where Apple Search Ads are available, ads will show up as the top result (if anyone has run an ad campaign by the most popular search requests). In addition to the organic list of search results, Apple includes in-apps, bundles, and collections in the search results. They often appear at the top of search ranking, pushing down organic positions.
When analyzing search rankings, it's important to keep these cards in mind to understand what your search results will actually look like. Otherwise, you'll think your app is ranked Top-1, like 'Letgo' in the example below, but it'll actually be shown in 3rd place. This can affect your downloads. AppFollow counts all possible factors in search results and displays your actual position in organic search.
What impacts search conversion rate

The icon, title, subtitle, average rating, and first three vertical screenshots, or one horizontal screenshot/horizontal video. In search results, a vertical video will appear first, followed by two screenshots.
Google Play Store
In Google Play, the search results page is more compact, making it relatively easier to increase android app downloads. One search results screen can fit nearly 10 apps, including ads (in the first 2-3 spots or mixed). When you scroll down, Google shows featured app collections.

If you're searching for a game or app by brand (i.e., its title), the Play Store listing will show its card with screenshots or a video (if there is one) and a big Install button. That's followed by advertised collections and recommendations, and then organic search results.

What impacts conversion rate install

A user can see an app's icon, title, developer name, average rating and size without visiting the app page (except when searching by brand). If an app has a badge, i.e., Editor's Choice, the badge will be shown in the search results instead of the app's average rating.
Unique features of search
Search traffic channel brings the most relevant audience because the user already has a need they want to satisfy.
To drive mobile app downloads from Search, you need to optimize your keyword metadata regularly. Experimenting with graphics (icon, screenshots, and videos) will help to increase the conversion rate from all traffic channels.
Studies show that 90% of popular requests are by brand. Users often search for the names of apps and developers they found out about elsewhere. Maybe they've seen a 'Spotify' ad or a friend recommended 'TikTok'. All offline activities fall into the Search channel.
The Search channel is less important for games because they're often downloaded from featured collections or top charts (through the Browse channel).
How Browse/Explore works
Users coming from the Browse channel find apps in featured collections, recommendations, categories, top charts, by Similar apps, or on the store's home pages.
Getting featured in the App Store
When opening the App Store, all users are taken to the main 'Today' tab. It features both games and apps. Apps displayed in Today get the most amount of app impressions. Apple also divides featuring of games and apps into separate 'Apps' and 'Games' tabs. Each has thematic collections, recommendations, top charts in different categories. App store impressions in these categories can be way lower. They also depend on the app's ranking. If an app is featured in a collection and ranked 30th, this kind of featuring may not yield additional views or downloads.
What influences the user
The icon, title, subtitle, and an eye-catching story — if you're lucky enough to get a featured card.
Getting featured in Google Play Store
Google Play doesn't have a main featured page. Instead, it has separate tabs for apps and games. The user will be taken to the page they were on when they last visited. It also has thematic and ad collections, as well as featured apps by category and personal recommendations. Each section is broken up by genre.
Here are the following App sections:
'For you' is a section of ad banners, recent updates, and thematic collections.
'Top charts' section is divided into Top Free, Top Grossing, Trending, and Top Paid apps.
'Categories' is a list of apps divided by genre/type, containing collections and recommendations.
'Editor's Choice' is a selection of recommended apps from Google's editors.
'Family collections' are for children, divided by age.
'Early access' is a section of recently published or yet unpublished products.
Games sections, apart from the sections above, have a few more:
'Events' section contains brief notes from publishers about promotions and events.
'Premium' includes collections of paid games.
What influences the user

The icon, title, size, average rating (the ranking isn't shown in the App Store).
What's unique about getting featured
When getting featured brings a sharp growth in downloads, it raises the app's position in the category. This means that users can find it more easily in the Apps category and Games subcategory, and that your app may get more relevant downloads.
Getting featured in a category brings more relevant users who are looking to solve an issue. Users are more likely to install apps from the Today section out of curiosity. That makes them harder to retain or convert into paying customers.
Apple likes to feature developers who support the company's latest software and device releases, example: dark theme, iOS 13 release, or apps for smartwatches.
Google Play has ad collections that are usually displayed above organic recommendations.
Even though apps' average ratings aren't displayed on featured pages, they're usually 4.5 and higher.
Localizing the app page and the app's interface increases the chances of getting featured in more regions.
The total number of uninstalls, crashes, and bugs also influence the app store editor's choice.
Top charts
In the App Store, the top charts of free and paid apps are displayed on Apps and Games pages after collections, which makes it harder to scroll down to them. However, Google Play has tabs for the top game and app charts.
What influences the user
The icon, title, subtitle, size, and average rating also matter in Google Play.
Similar Apps
Similar Apps is a set of similarly themed recommendations provided by app stores on each app product page. If a user navigates to an app's product page and doesn't like its reviews, price or anything else, they can find other similar products right away at the bottom of the card. On the one hand, these collections are a good way to get downloads. But remember, your competitors can get them, too.
The App Store offers two collections on an app page, 'More by this Developer' and 'You might also like', which recommends related apps. Google Play has 6 recommendations per page:
You might also like
Related to this app (advertised apps)
Similar apps
Recommended for you
More by this developer
Related topics
Google also adds New & updated games in its recommendations for games.
What influences the user
The icon, title for both app stores, and size for Android apps.
Unique features of Similar Apps
Exactly how the algorithms behind Similar Apps work is still a matter of debate. ASO experts suggest that the following factors can affect the selection:
Theme and category
Metadata: similar keywords in title, description, natural language in Google Play
Graphics: similar colors, icons, design
Number of downloads
Average rating, amount of ratings and reviews
How to analyze traffic channels
Now that we've looked at these channels' unique features, let's check out how they contribute to App Store Optimization and downloads. To do so, we'll need data from App Store Connect and Google Play Console. It's hard to harmonize and unify the consoles' data when you work directly with them. AppFollow makes it easier to crunch the numbers. All console data is transferred for selected apps only, is securely encrypted, and isn't disclosed to third parties.
Let's find out how Search and Browse influence apps and games.
We'll look at one of our customers, a leader in the Health & Fitness segment, the Flo Period & Ovulation Tracker app in the App Store, as an example. Using the Channel analytics tool, we can see a breakdown of the main traffic channels. Most of Flo's traffic comes from Search.
We can also compare Flo's conversion rate (represented by a red line) with the category or country benchmark (we'll define it later). Knowing that most users come from Search, we'll focus on keywords in title, subtitle, and the keyword field. Graphics also impact optimization and download conversion, but only after the user finds the app.
Moving on to games.
In an example from another one of our customers, PlayFlock and their game Family Hotel, let's look at the impact the Browse channel and the special features of Google Play analytics have.
Google Play Console only provides general data on the breakdown between Search & Browse. It doesn't dissect it by country. You can get either general organic data for a country, or worldwide data for Search or Browse only. To view these statistics, select 'Browse' or 'Search', then 'Downloads' / 'Page Views' in Channel Analytics.
We can't disclose raw numbers, but we can tell you that the share of Browse traffic is 15 (!) times higher than Search traffic (Worldwide data, the last 2 months). This situation is pretty common for gaming apps.
Our experience and research data prove that the Search traffic channel usually prevails over the Browse channel in apps statistics (which makes text metadata optimization a vital part of the App Store Search Optimization strategy), while the Browse channel tends to be more popular in the games segment. But if you've noticed that your app gets mostly Search traffic, we don't suggest you limit yourself to text optimization alone. Graphics also make up a significant part of ASO.
The only difference is that text optimization for the Browse channel should be not only 'searchable' but also 'converting' (you can test short descriptions in Google Play, for example). For many games, Search traffic is a minor channel. It's more important to maximize the perks of being listed in Top Charts, Similar Apps, and other selections by experimenting with graphics and conversion rate optimization (CRO).
It's also important to analyze both your product's statistics as well as the market as a whole. Use the Conversion Benchmark tool to compare your product's internal conversion metrics with the market average. We took Flo from the Health & Fitness category as an example. The benchmark for the United States is 6.6% (downloads from Search). You can see the range for possible conversion when hovering over the minimum and maximum distribution. Our conversion of 12.21% is twice that of the benchmark, which is a great number.
That wraps up our analysis of traffic channels and learning one of the ways how to increase mobile app downloads. Next time, we'll take a look at algorithms for indexing keywords, and how to find keywords to increase mobile app downloads.
Test Yourself:
Go to Channel Analytics and analyze your traffic channels.
Answer the following questions:
Which channel brings more traffic, and why?
How do traffic channels differ by country, and why? (choose 2-3 key countries)
How do your metrics differ from market benchmarks? If they're below the market benchmarks, how can you increase them?
What can you do to improve the metrics in each channel?